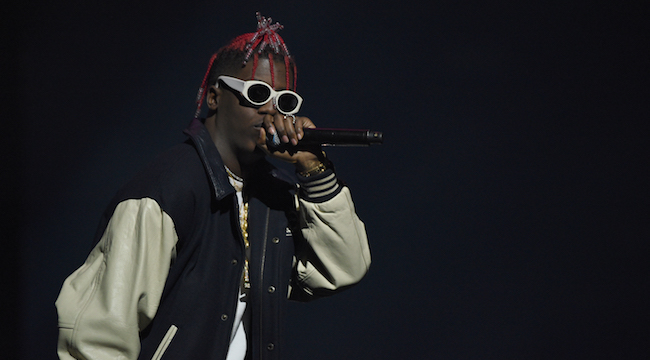 Joe Budden has been given a regular megaphone to sound off on the music industry in form of his new online show The Get Down. It should come as no surprise that he's starting to rub some central figures the wrong way. This week, he got into a digital beef with Lil Yachty, the 19-year-old rapper from Atlanta. It all started with Budden saying Yachty is "ruining the culture," before adding, "I don't think Yachty is hip-hop. I don't think Yachty's label is hip-hop, and when you're not hip-hop, and you're trying to just troll or exploit, you get things like this album cover, which is to draw attention to music that's not drawing attention."
Yachty, who has two songs in the Billboard Hot 100, one in the top ten, responded via an old diss track from Lil B, another rapper with a penchant for getting under the skin of the older heads.
Now Yachty's dad, Shannon McCollum, has gotten into the mix with a since-deleted Instagram post calling Budden a "cornball." McCollum wrote, "Only reason I'm posting this so I can publicly say F**K #joebudden N***a u have no relevance in Hip Hop!! And on my life I bet when his album drop his numbers will be better than any project you have released. He's done more in 1 yr than you've down your whole wack ass career. FOH n****s love trying they best to pull somebody down instead of lifting somebody up. Get that free press bruh off the back of my young'n but you still a cornball! #oldwackrapperissues"
The Based God, for his part, has taken a more peaceful stance. We should all be more like Lil B.