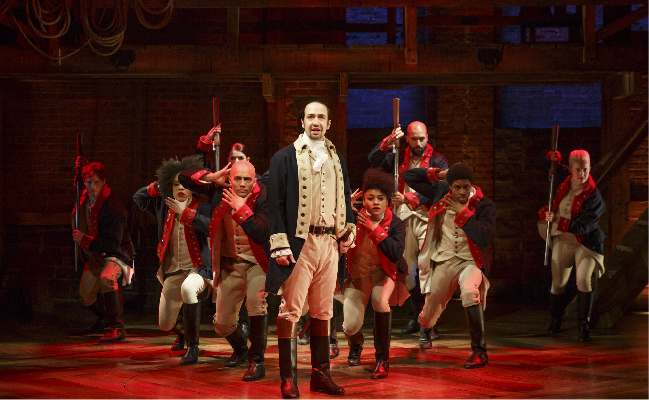 Joan Marcus
As George Harrison once warned us, all things must pass. This includes Lin-Manuel Miranda's time playing Alexander Hamilton in his smash Broadway play Hamilton. The musical has just brought home about a billion Tony Awards, but there have also been murmurings that Miranda's time starring in the play was coming to a close. Now, a press release has let us know that, indeed, Miranda will be leaving the show soon.
Miranda's last performance will take place on July 9, meaning, somehow, tickets for that show will be even more difficult to get. After Miranda takes his final bow, he will be replaced by Javier Munoz, who is currently his understudy. In terms of replacements, that's about as good as you can hope for, if you were hoping to see the show, in, say, August.
However, before Miranda, and also Philippa Soo, who is leaving the show in July as well, both make their exit, Miranda says the show will be taped for posterity, although the footage may not be released for quite some time. Miranda has also said that he will return to the show on occasion to reprise his now iconic role. "You're going to be like, 'When will you stop playing it?" he joked.
It's the end of an era. Or, at least, it will be on July 9.
(Via Vulture)