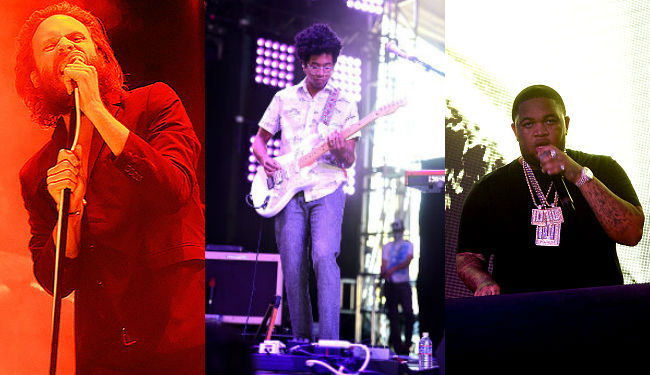 With all the plans that have to be made to pull off a successful trip to Lollapalooza, from mapping out the Bud Light vendors to figuring out how to actually get to the venue, you can be forgiven for not taking a good hard look at the schedule. After all, there were hotels to book, sunscreen to pack and car snacks to buy before you ship off to the only major city that is at least 500 miles from everywhere else.
The sheer number of names playing at one of America's largest festivals can be daunting, especially if you've stayed up for days planning a trip, so we've taken the liberty of picking the acts that you absolutely can't miss at Lollapalooza 2015.
Bully
This '90s-indebted punk group built quite a name for themselves with the release of their single "Milkman." The buzz around them was so big that their debut album (as in their first album ever) was streamed by NPR before its release.
See them because: You want to tell your friends you saw them before they took over the world.
Django Django
Unlike other oddball Lolla rockers like Alt-J and Tame Impala, Django Django absolutely kick.
Their textures are trippy and their influences are psychedelic, but "Default" hits the crowd like the hypest track of an EDM set at Perry's.
See them because: You can #turnup among your own age bracket.
Young Thug
Atlanta rappers have spent the last several years tossing out rap's rulebook. Thugga went one step further and tossed out the dictionary.
So very little of what Thug does can be contained in the standard measure of rapper proficiency, lyrics on the page. Thug songs are all delivery, charisma and ad-libs.
See him because: You want to figure out the chorus to "Lifestyle."
TV On The Radio
Truly great, era-defining bands are a rarity in any age. But they've become even rarer since the Internet took a (pirated) hammer to the monoculture.
Kyp Malone and his associates may have picked the wrong time to start up a game of pin-the-tail on the zeitgeist, but their six albums have all been too strong for that to matter.
The band is currently touring behind Seeds, their first album since their bassist tragically passed away in 2011.
See them because: You owe it to yourself and you never know when you might get the chance again.
Toro Y Moi
Chillwave may be dead, but that doesn't mean Chaz Bundick is going to stop any time soon.
The producer has emphatically moved on from the psuedo-scene that made him a star while maintaining the aura of playfulness that made his early work so great.
See him because: Few artists go better with a summer day in the park.
DJ Mustard
He's the man behind almost every rap hit you can remember from the last several years. Seeing him at Lollapalooza will be like pressing shuffle on a live iPod full of nothing but bangers.
See him because: You've spent too long deciding which acts you want to listen to, and he gives you the chance to hear all of them.
Metallica
They are still one of the hugest bands on Earth, even after that Lou Reed collaboration LuLu. That points to a crazy strong back catalog that's perfect for a longer set and, given the big stage at Lollapalooza, it's unlikely that they'll disappoint.
See them because: They might just remember you.
Sir Paul McCartney
If you saw him perform at Bonnaroo two years ago, feel free to head to Flying Lotus, as Macca probably hasn't changed his set. Otherwise, get to the stage where Sir Paul is playing.
See him because: Duh.
Another can't miss stage? The Traveling House of Whatever, presented by Bud Light. Some of the craziest moments at the festival will happen there, so when you're at Lolla, crack a Bud Light and be up for whatever!