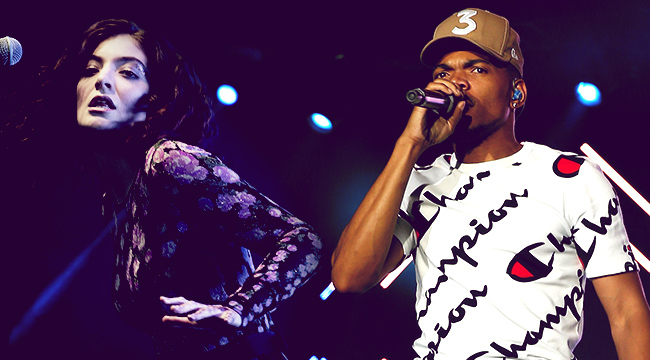 Lollapalooza is a festival like no other. Set in Grant Park, Chicago's "front-yard," it's a four-day long assault on the mind, the body, and the eardrums. The space itself is large — a mile separates the two main stages — and the lineup is immense. To see all of the many standout acts on the bill is to pay in sore feet, mild dehydration, and an aching spine. For four days, I dragged my slowly disintegrating body all around Grant Park, walking miles and miles and miles each day, all in the pursuit of that indescribable catharsis that drives people who truly live for live music. Lollapalooza isn't for everyone, but for the ones who it resonates, there's hardly anything better in the world.
https://www.instagram.com/p/BXYJRq-Aire/?taken-by=uproxxmusic
Placing enthusiasm before practicality, I arrived downtown just as the gates were opening on the first day so that I could catch an early one-two punch of Evanston rapper Kweku Collins and vintage rock throwback White Reaper. No regrets at all, they were both fantastic. Things were going well right up until Liam Gallagher's set. The Oasis front man was making a rare solo appearance in America and drew a pretty impressive-sized crowd out to the main stage late in the afternoon.
Liam opened with "Rock N Roll Star" and then segued into "Morning Glory." I was totally in my element. The same could not be said of the man onstage. Gallagher clearly seemed pissed off about something. Some posited that it was an "I Love You Noel" sign out in the crowd, alluding to his estranged brother, but he claims it was the state of his voice following a gig the night before. Just 20 minutes after he arrived, he walked out with nary an explanation. The crowd began to chant "F**k Noel" to entice him to come back out, but it was to no avail. It was a bummer, sure, but such is the reality you face when you place your hopes with one of the most volatile presences in rock from the past two decades.

I wish I could say the abbreviated sets ended there, but alas, they did not. Migos got a late start due to some technical issue and played for barely half an hour. They made the most of their time and the crowd was super into it, but as one of the biggest draws on the bill, it was a let-down. Then at the very end of the night came the true gut-punch. Lorde took the stage promptly at 8:45 PM with a downtempo rendition of "Green Light," but she barely made it past 9 before being waved off due to an impending storm. "F**k!" she exclaimed. "I will be back for you I promise." She never returned.
I was gutted. Melodrama, for my money, is one of the best albums of this year, and I was greatly looking forward to watching her bring that collection of music to life under the glittering shadow of the Chicago skyline. The torrential downpour I was forced to practically swim through on my way to the train station only added to my misery.
I can't really say how Blink-182 or The Killers performed the next night. I can tell you that Run The Jewels absolutely burned the mainstage to the ground and that Ryan Adams brought some of the best gut-bucket rock I've seen in a minute — shout out to that sweet Flying V guitar — earlier in the day, but I did not stay for the headliners. It was for a very good reason. Lollapalooza wouldn't be Lollapalooza if not for the after-shows and I got into the best one of the weekend.
At the last minute, and despite the fact they weren't even booked to play Lolla, Foo Fighters announced a special intimate show at Metro Chicago, up the Red Line on the city's North Side. "Tonight we're gonna try and break our record for the longest show ever," front man Dave Grohl warned at the outset. "I hope you brought comfortable shoes." I had. They were amazing. I didn't get home until way after 4 AM.
https://www.instagram.com/p/BXZglC6gU8U/?taken-by=uproxxmusic
Like many festivals, Lollapalooza goes a long way toward making their event about more than just the music, because to put it plainly, it's not enough these days to just book a compelling lineup. Audiences demand an experience, and with the entirety of Grant Park to work with, Lolla has a tremendous footprint to give them one. There's was a roller-skating rink, a vast assembly of delicious culinary options — including the mandatory lobster corn dog created by celebrity chef and Chicago native Graham Elliot — vintage arcade games, shops packed with everything from vinyl records to leather sandals, and several different fan-centric installations.
"There's a danger of there being a festival fatigue," DJ A-Trak told me as we walked through Pepsi's expansive Zero Chill House. "I think it's great that a festival like Lollapalooza, that's been around so long…they're not just resting on their laurels and doing the same thing every year. They're getting more into the experiential thing because that's the way to stand out."
https://www.instagram.com/p/BXYM5Hyg_pb/?taken-by=uproxxmusic

Though I managed to hit every single stage at Lolla, there's one I typically try to avoid at all costs. Perry's Stage — named of course after the festival founder and Jane's Addiction singer Perry Farrell — is an endless barrage of Keeping Up With The Kardashians cut scene EDM blasted at the faces of 5,000 or so teenagers totally and completely losing their minds. Despite my reservations, I braved this Day-Glo approximation of Dante's Inferno twice, the first for a surprise Vic Mensa mini-set, and then again for a 21 Savage performance. The intensity of the crowd far outmatched whatever was happening on stage and I got the hell out of there as soon as both were over.
Despite only having one representative in the headlining slot, rap's presence at Lolla was beyond dominant. Migos, Big Sean, and Lil Yachty pulled in some of the biggest crowds of anyone at any stage. The audiences for Joey Badass, Run The Jewels, and Rae Sremmurd were downright nuts. And then there was Chance.
Odds are that when we look back on this festival in five or ten years, the thing most people will talk about is Chance The Rapper's showing on that glorious Saturday evening. It really felt more like a coronation than a concert for the Chicago rapper. There was even a star-packed "This Is Your Life" video montage that played just before his grand entrance. "I'm gonna f**k this show up," he promised. And so he did.
Hitting the stage accompanied by an explosion of fireworks, Chance's signature enthusiasm and zeal lifted the spirits of the 100,000-people spread out before him. The love between performer and crowd was total. He poured his every bit of heart and soul into favorites like "No Problem," "Ultralight Beam," "Blessings," and "All Night." The moment he brought out his old friend Vic Mensa for "Cocoa Butter Kisses" was pure catharsis.
https://www.instagram.com/p/BXb9BK4gV8y/?taken-by=uproxxmusic

Sunday brought major levels of fatigue, but also the most solid, single-day lineup. Car Seat Headrest tore it down during the day playing cuts from their stellar last album Teens of Denial, as well as an emphatic take on James Brown's "I Don't Mind" and their new single "War Is Coming (If You Want It)." Sampha brought major vibes and tremendous cowbell play during his set in the early evening. The Process songs sound incredible live. Then came the big finale.
Say what you will about the last Arcade Fire album Everything Now — and there's a lot to be said, most of it negative — but they still remain one of the top live performing bands in the world and their set was a fantastic way to end the entire weekend. That enthusiasm and engagement that seemed so absent on their latest recorded work gained new life in front of the audience. Leave "Peter Pan" in the vault forever, but you can keep the Regine-led "Electric Blue." The fans responded to the newer stuff well, but things really got cooking once they dug into their vast array of classics "No Cars Go," "Sprawl II (Mountains Beyond Mountains)," "The Suburbs," and "Rebellion (Lies)."
As the last "ooooh, oooohs" of "Wake Up" echoed off the imposing wall of skyscrapers glittering just to the west, I felt physically worse for the wear, but overflowing with rapturous euphoria and eager to return and do it all again next year.
https://www.instagram.com/p/BXekcS9AP-A/?taken-by=uproxxmusic