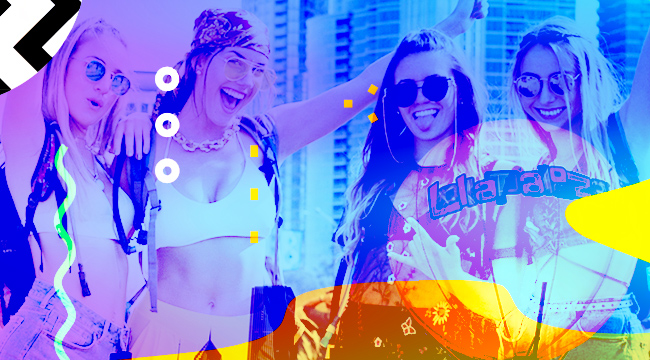 In case you haven't been on Instagram lately, we are deep in festival season. This past weekend found me at Lollapalooza in Chicago, Illinois and in just a few days I'll be road-tripping to Outside Lands in San Francisco with the Uproxx Music crew. Having this in the back of my mind all weekend while I hiked across Grant Park for the millionth time made me think of how starkly different all the festivals I've covered this summer have been. I jumped into the festival circuit media beat last year when complaining about the homogenization of music festivals was still sexy. And while there were definitely some overlaps when it came to the line-up — The fifteen minutes Lorde was on stage marked my third time seeing her this summer — Lollapalooza is very much its own festival.
To break down this festival experience I present to you the Frankie Festival Report Card. It's the result of four days on little to no sleep, an undetermined amount of Red Bull and a newfound infatuation with the city of Chicago. I was able to weave in and out of GA and VIP so my grades are based off of those experiences. I didn't touch Platinum, but at $4,200 for the weekend I'm assuming they all had an A+ time.
BATHROOMS — A+
The bathrooms are inarguably the most important part of any festival or life experience in general. Lollapalooza has bathrooms figured out: VIPs can relieve themselves in immaculate, flushable air-conditioned trailers. Those chilling in General Admission have access to standard port-a-potties which stay clean and well stocked throughout the weekend. These feature a modern design that has openings at the top and bottom, making them similar to a standard bathroom stall. That may sound awkward, but at least you're not trapped inside a hot box with all those… smells. Also, Lolla strategically placed rows of bathrooms throughout the festival grounds to avoid congestion and make it easy for you to get in, do your business, and get back to enjoying the music without having to miss more than a few moments of 21 Savage's set.
Honestly the only reason I'm not giving the bathroom situation an A++ here is because they were pumping out the bathrooms behind me during Chance The Rapper and the smell-o-vision was not on point, if you know what I'm saying.
LOCATION — B+
Producing a city festival is a tall order, and in my opinion even New York City still hasn't fully figured it out. Chicago did a great job, though. Its thriving music scene provided great venues for after shows (like the one Foo Fighters played at the legendary Metro Club) and Grant Park gave festival-goers a beautiful 360 degree view of the city to serve as an instagrammable backdrop. Depending on which stage you were at, you may have also caught some gorgeous peeks of Lake Michigan.
Chicago's a driving city, so Lollapalooza offered discounted rates for the Millennium Park garages. Lyft and Uber also offered discounts throughout the weekend. CTA, Metra and Pace (Chicago's public transportation) were also an option, though I can't speak to their expediency. I can say, though, that Lolla did a great job of shutting down Michigan avenue at the end of the night to get everyone out quickly; Yes, even the first night, when we had to be evacuated due to weather.
FESTIVAL GROUNDS — B
Lollapalooza spans one mile end to end, which means festival-goers had to jog the 2,435 steps from The Killers on the Grant Park stage to Blink-182 on the Bud Light stage if they had any hopes of catching both sets. I don't think that large festival grounds are necessarily a bad thing, especially considering the roughly 100,000 people who attended Lolla each day, but that amount of walking definitely has an impact on your festival experience (also on your knees and feet).
VIP ticket holders had access to the Fest Express which took from one end of the festival to the other (or whichever stage in between you wished to be dropped at) via golf cart. The VIP tickets may be pricey, but being driven from stage to stage helps make the most of your time and was also just really really fun.
As far as aesthetics go, Grant Park's 319 acres are just awesome. Once you enter through the main festival gates you've got a straight shot to Buckingham Fountain, which was made popular by the opening credits of Married With Children and is a great photo opp. There are gardens and statues sprinkled throughout the park and you're never walking on one surface for too long. Blacktop turns to concrete turns to grass (which is where the B comes from, because grass unfortunately turned to mud) turns to astroturf in VIP.
CROWD — A
When I told people I'd be going to Lollapalooza I got a lot of comments about "watching out for the teens," as if the youth of Chicago were interested in feasting on my twenty-something blood, or had any less of a right to be at an all ages music festival than I did. Granted, there were a lot of teens — enough teens all wearing identical basketball jerseys that we probably could have orchestrated over a thousand color-coded pick up games if I knew how math or sports worked. But I didn't find the teens to be a nuisance, I even talked to a few while Charli XCX brought Halsey out for some Spice Girls action.
Even when I braved Perry's stage (The EDM stage named after Lolla founder and Jane's Addiction frontman, Perry Farrell) my anxious, claustrophobic self was able to weave in and out of throngs of wide-eyed teens with the latest memes printed out on cardboard to serve as totems who, all of whom moved for me when asked politely.
Like I said, Lolla is an all ages festival and its kids stage, adorably named Kidzapalooza, makes it a super family-friendly one. I got to take a tour of Kidzapalooza where I experienced about 15 minutes of baby fever watching toddlers get (temporary) neon green mohawks from local Chicago hairdressers and work on collaborative art projects as skateboarders gave demonstrations behind them. There's just something about a chubby-cheeked baby with noise-canceling headphones on, right?
LINEUP — A
I have no complaints about this lineup. My colleague Corbin was able to see a lot more music than I was, you can read his thoughts here. Because of the overlap from other festivals I've attended, I was able to skip seeing some of my go-tos and discover new artists — Barns Courtney, Temples — who now have a home on my Spotify.
Saturday one day passes sold out for this festival extremely early (#ChanceTheRapperEffect), but if you weren't a die hard Chance fan it would be hard to choose just one day to go and a four day GA wristband got you a lot of bang for your buck as far as acts to cross off your bucket list.
MERCH — A+
As a merch queen, I was beyond impressed by the offerings at Lollapalooza this year. Their main merch lounge was a large *air conditioned* tent at the center of the fest offering a variety of Lolla-branded t-shirts, tank tops, halter tops, hats, jackets, onesies, and coozies. Located right outside was an artist merch area separated by artist name for headliners and by day for smaller acts, which is incredibly efficient. There were also two satellite merch stores north and south of the main drag that let you avoid the crowds. VIP ticket-holders had access to exclusive designs.
FOOD — N/A
Because I was attending as media I had access to catering options that I shoveled down between sets and honestly hardly noticed. I also had a lot of Clif bars. During my tour of VIP I got to taste test some of the food offered there (booze + food is included in the price of a VIP ticket and all you can eat/drink) and I have great things to say about their green chili hot dog. I'll do a better job of be documenting my noms in great detail at Outside Lands this weekend, so be sure to follow @UproxxLife on Instagram to get the first look.
Overall: A
All things considered I had an amazing time at this festival, if I had to choose only one festival to go to this summer it would mostly likely be this one. Four days of music at a logistical dream boat of a festival in a historic, vibrant city checks a lot of boxes for me. Perry Farrell said in an oral history of the first Lollapalooza that he chose the name because of it's humorous double meaning; "a giant, swirling lollipop" and "an extraordinary or unusual thing, person, or event; an exceptional example or instance." Lolla is definitely the latter.