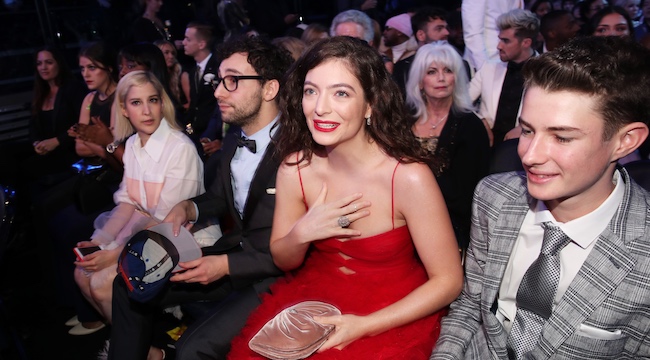 To say the least, the Grammys were an interesting time for Lorde. She didn't win her one nomination (Album Of The Year for Melodrama), she didn't get to do a solo performance, and on top of that, she, along with the rest of the women in the music industry, were told that they need to "step up" by Recording Academy president Neil Portnow.
That said, Lorde is looking at the positives: She had a fun night in New York City, and the fact that Melodrama was even a finalist for Album Of The Year is itself an honor. She decided to express her gratitude by taking out a full-page ad in yesterday's edition of The New Zealand Herald, a handwritten note in which she thanks her fans for supporting her and "for believing in female musicians":

OH, HI THERE!

I'm writing this from New York City.

Angelo [Yelich-O'Connor] and I sat in Madison Square Garden last night and saw a lot of crazy and wonderful things.

I just wanted to say thank you, from the bottom of my heart, for loving and embracing Melodrama the way you did. My nomination belongs to you. Thank you, also, for believing in female musicians. You set a beautiful precedent!

All my love,
Lorde
Lorde also wrote out some stray notes in the margins of her letter: She drew a heart around "Aldous H" (presumably in honor of fellow New Zealand musician Aldous Harding), said she met Stevie Nicks and "almost cried," and noted that "Jay-Z's hands are really soft."
Find the full list of this year's Grammy winners and nominees here.