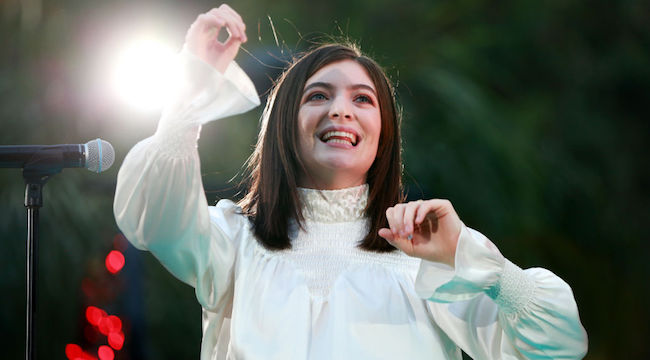 Lorde's recent trip to Los Angeles was most notable for her flu-ridden VMA's workaround that required IV treatment, but the pop phenom stayed busy despite being under the weather. For one, she performed a secret show at the Houdini Estate for a lucky small audience. And today, her appearance on WTF With Marc Maron is available for listening.
Maron has long had a fascination with musicians, though it tends to skew toward the careerist rock types, including Bruce Springsteen, Ryan Adams, and Neil Young. With Lorde, he found a sharp verbal sparring partner ready to banter about her childhood in New Zealand, classic rock, and the making of her recent (and fantastic) album Melodrama. Check out some highlights below and listen to the whole thing here. Skip to minute 57:00 if you want to hear Lorde sing a few bars of Phil Collins' "Take Me Home."
On synesthesia:
"It guides a lot of the music I make. I make very visual music and very colorful music, so when things are at peak ultraviolet or peak blue, I'm heading in the right direction. But it can be a lot, and I basically have to make music with my eyes closed. Some people have TVs going in the studio, but I'd find that impossible."
On Paul Simon's Graceland:
"I hadn't listened to Graceland in a while and it sort of smacked me across the head in the way that My Beautiful Dark Twisted Fantasy did when I was 12…It's sort of like a Kanye record in that it's so f*cking succinct… [The production] is the best. And I just listened to it and realized that a lot of the disciplines are what I needed to apply to this record. I needed to keep it simple."
On Duran Duran's Simon Le Bon:
"He signs off all his emails with 'whoosh.' I think that's very Simon Le Bon to whoosh his emails off into the atmosphere."
On Phil Collins:
"My favorite males are people that sound like a combination of your dad and your boyfriend, and that's Phil… The one that I'd play you if it was dark outside is 'Take Me Home.' It's sung from the perspective of a mental patient and it's so simple with just the drums."
On the VMAs:
People got so angry about me performing at the VMAs. I just danced. And I danced with full f*ckin' joy. Some people were like 'we get it' but others were like 'this is offensive that I have to watch this.' It's so private seeing someone experience such joy.