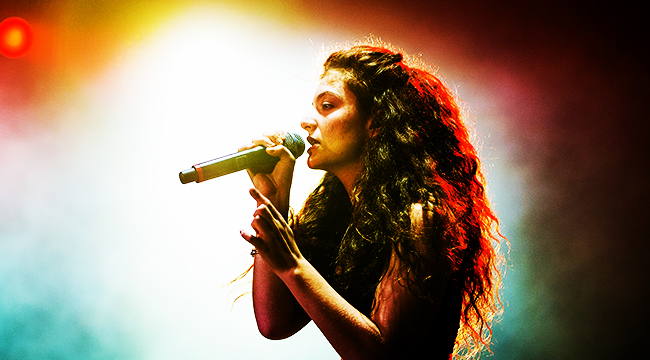 If Lorde never makes it as a royal she can always fall back on a solid career in a cover band. After all, during her tour for the album Melodrama Lorde has been making headlines for her habit of playing covers of legends while performing in their hometowns. First, there was the Carly Rae Jepsen jam "Run Away With Me" she performed with Jack Antonoff at a benefit show for the Ally Coalition in January. Then while in Minnesota she covered Prince, Kanye in Chicago, Drake in Toronto, and now St. Vincent in Brooklyn, New York.
Every single person needs @lorde covering @st_vincent in their life (and yes, that is Jack Antonoff on guitar) pic.twitter.com/CiRdPdd3ed

— Lyndsey Havens (@LyndseyAlana) April 5, 2018
https://twitter.com/LyndseyAlana/status/981716906263662593hThe St. Vincent song she chose was appropriately enough called "New York." Thus reaffirming the theme of location-specific cover songs. She was again joined on stage for the song by her producer and co-writer Jack Antonoff — who she has previously had to deny having a romantic relationship with. The simple stripped-down acoustic take on the song had a stark, haunting quality. Lorde and Antonoff made it sound small and intimate, their musical chemistry explicitly on display as she sadly serenaded him and sang a song of longing and regret.
The next stop on the Melodrama tour is in Newark, New Jersey. I wonder if she'll pay tribute to My Chemical Romance, or Redman? Springsteen could be likely. Either way, her habit of unabashedly paying respect to a diverse set of influences from Phil Collins to Kanye West has earned her the respect and attention of seasoned music snobs and bubblegum pop fans alike.