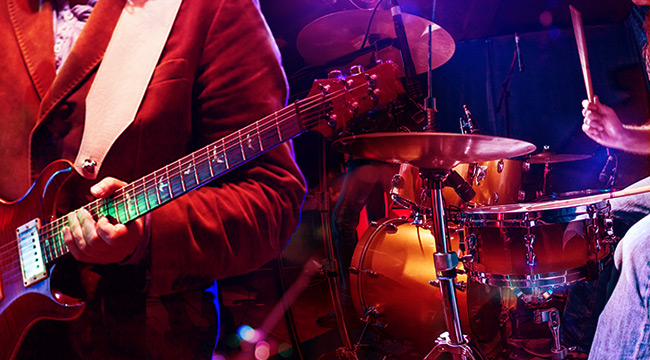 Uproxx has a diverse staff who write about all sorts of things, from sports to politics to food and travel, to TV and film, but obviously, most of the people who work here share a passion for music, because music is always in the background throughout all of those other things. It's one of the things that links us, no matter what our lifestyle, job, or location may be.
20. Hamilton Leithauser + Rostam, I Had A Dream That You Were Mine
It's a combination of elements from two of the best NYC bands of the aughts in the Walkmen and Vampire Weekend, and it works so seamlessly it's almost suspicious. Leithauser stretches his voice in ways he never did in his old band, from a drunken mumble on the otherwise-bouncy "You Ain't That Young Kid" to a holler reminiscent of the last karaoke song of the night on "Peaceful Morning." Rostam also learned a couple of lessons about the earnest, welcoming qualities of the Walkmen, softening the erudite quality of his Vampire Weekend arrangements. The instrumentals are as effortless as the singing is willful.
19. Danny Brown, Atrocity Exhibition
Brown made no secret that he wanted Exhibition to be his serious legacy album, but it would have benefited from some of the more carefree, goofy elements of previous classics XXX and Old. Yet the heaviness has power, and the steely-eyed visions he presents of the gritty Detroit streets deserve deadly seriousness. Brown continues to pick some of the most original, menacing beats out there, and when he takes his voice down from his signature yelp to a more controlled murmur, it's easier to appreciate just what a lyricist he is. All right, if you want a "fun" track, "Ain't It Funny" is fun in a psychotic way and "Really Doe" is his thumping posse cut.
18. NAO, For All We Know
The enigmatic genius Jai Paul may still have not released a proper album, but his addictive sound is alive and well in For All We Know, which includes a production feature from his brother A.K. on the brilliant "Trophy." NAO plays the classic empowered ingenue with a stable of memorable hooks, but the album's true star is the incredible, sawtoothed guitar that appears on damn near every track. Most of the tracks, including the stomping ballad "Bad Blood," are duets between her cheeky soprano, full of kiss-off lyrics, and that guitar, and they're full of soul and sex.
17. ScHoolboy Q, Blank Face LP
Quincy finally found a middle ground between the hard-bitten street tales of the under-appreciated Oxymoron and the fun boastfulness of his career-best stretch of songs on the A-side of Habits & Contradictions. Re-energized by kicking his addiction to drank, ScHoolboy's flow is as venomous as ever, and his skill for finding the pocket of every beat is damn near unparalleled in the rap game. "JoHn Muir" is a spiritual successor to "There He Go," unfailingly catchy over a beat you'd never peg for a hit, and "Groovy Tony" might be the most intense thing he's ever put on wax (with an assist on the album version from Jadakiss, who put in a contender for guest verse of the year).
16. dvsn, Sept. 5th
Though Views was an overstuffed disappointment, the Toronto sound continues to produce excellent, chilly R&B, with OVO's latest discovery producing an album of raw come-ons that always seem to have just enough backing to give texture without losing their sense of immediacy. Singer Daniel Daley is cut straight from the classical soul singer mold, able to go high with his powerful chest voice or his airy falsetto. Seriously, if you told people "Hallucinations" was an Usher track, A) some folks would believe you, and B) it might have hit #1, and the repeated, ascending yeah yeah yeahs of album closer "The Line" are as close to heavenly as anything this brazenly sexual could be.
15. James Blake, The Colour In Anything
Blake got a bump in publicity from his Lemonade feature, but he's always had the voice of an angel, and he's never put it to such focused use before. He still hasn't let go of his origins, from back when sparse bass music was called post-dubstep, with numbers like "Timeless," but the farther he moves away from it, the more immediately rewarding his music becomes, with warmth like on "Choose Me" and "Modern Soul," which floats like a jellyfish on that pulsing drone that leads the song. Blake still makes rainy day music as his cover art suggests, but like his album title, he's beginning to let in more parts of the spectrum, and the effect is exhilarating.
14. Kaytranada, 99.9%
Hip-hop and house music have borrowed from each other from years, perhaps decades, but never have they been so happily married than on 99.9%, where Kaytranada manages to flit between rapper showcases like "Glowed Up" (featuring artist-of-the-year Anderson .Paak) and straight dance numbers like "Lite Spots" without being the least bit jarring. It's like an entire album made of that magical midpoint in which Vic Mensa's "Down On My Luck" resides (and it's shocking Kay didn't produce that himself), and while it may not contain fireworks, it's got enough little surprises to reward repeated listens.
13. Whitney, Light Upon The Lake
Few records were as tranquil and welcoming as Light Upon The Lake this past year, with members of Smith Westerns and Unknown Mortal Orchestra largely doing away with the indulgences of either band in favor of direct songwriting and traditional instrumentation. Brilliant uses of brass in standout singles "No Woman" and "Golden Days" just highlights how deceptively simple the rest of the music is, all hooks and earnest guitar lines with no fuss. We could all do with a lot more "no fuss" in our lives, and this was the best straight-up indie rock album of the year.
12. Kyle Dixon & Michael Stein, Stranger Things OST
We're not even going to speak in terms of soundtracks, though this is the best one to a TV show I've ever heard in my life. If you've never seen the show, all you miss out on are the track titles' references to moments from the show (don't read them, they have spoilers). On its own terms, this is brilliant, instrumental synth music that pulses with tension and heart — and sometimes it just pulses. Without watching anything, you can sense the building terror in "The Upside Down," as one simple, dissonant line starts to dominate an otherwise-ethereal bed of chords. Both volumes have these moments, and if you use them to soundtrack your life rather than a TV show, it can give your actions drama and weight — try doing some work to it, or playing board games, and you'll know what I mean.
11. Blood Orange, Freetown Sound
As one might expect from a year as difficult as this, 2016 was rich with protest music. While other artists do anger better, few can capture the agony and sweet longing of the oppressed like Dev Hynes. As in previous works, he cedes the mic often to female vocalists, both for spoken-word missives and star turns, like Debbie Harry(!) on "E.V.P." and especially Empress Of on "Best To You," but without the melody, the politics wouldn't land. Yes, there is a seriousness to the album, but it has an undeniable beat which propels you through its running time. Often, it sounds like Hynes smashes together two forms of '80s pop — the slap-bass, synth funk and the soft rock ballads — at the same time, which works far better than it should.
10. Beyoncé, Lemonade
Whether or not Jay-Z actually cheated on Beyoncé, something got her seriously pissed off (you didn't have to look far this year), and it takes a special kind of artist to channel such powerful emotion into such a focused statement. I've heard plenty say that this is the ultimate album of strong black womanhood, and while I'm unqualified to make such statements, it's impossible not to be affected by the strength and ambition of Lemonade — and we haven't even talked about the movie, which is a perfect extension of everything put on record. That record is the best Bey has ever made, with tracks like "Sorry" and "Hold Up" managing to be both lyrically meaningful and as directly catchy as anything in her catalogue.
9. The Avalanches, Wildflower
Every bit as surprising a return as D'Angelo, the Avalanches managed to pull off the impossible feat of sounding decidedly like they did on Since I Left You while also cleaning up and updating their sound. They even featured their own vocalists, which like the sampled nature of their music, were a seamless blend of disparate eras and styles (Danny Brown! MF DOOM! Biz Markie! Camp Lo! Mercury Rev? Friggin' A.Dd+?!?!). Wildflower is a record out of time, blending old AM radio with '60s psychedelia and, as you guessed, hip hop, into a wash of colors and images that go by without you even noticing where songs end and begin (though "Frankie Sinatra" is a carnival-esque outlier). Such a long hiatus, though frustrating, makes sense for an outfit that seemingly operates in a different dimension.
8. Kendrick Lamar, untitled unmastered.
For years, Kendrick had eschewed the traditional model of TV appearances, choosing to perform unreleased and untitled tracks to suit the moment rather than his latest singles. They were some of the most exhilarating musical moments on television over that period, and he finally put them on wax, to go with other unreleased demos from his To Pimp A Butterfly sessions. "untitled 03 05.28.2013." was the first of those, as performed on The Colbert Report, and it's the most immediately pleasurable track on here. Every song, true to Kendrick form, is filled with the political and the personal (which, of course, are often one and the same), but it's those unexpectedly fun moments that give this a different vibe from TPAB, in a good way. Hell, "untitled 06 06.30.2014." is a straight-up lounge funk song with an uncredited Cee-Lo Green feature. Even Kendrick's tossed-off oddities are masterpieces.
7. Roosevelt, Roosevelt
From Kanye to Bon Iver to Frank Ocean, 2016 seemed like the year for everyone's complex, difficult masterpiece. As rewarding as it may have been, there was a serious dearth of fun out there, but Roosevelt was the exception. Track after track is absolutely perfect electro-pop, with influences of yacht rock and balearic house worn right on the sleeve. It sounds positively effortless while you're listening to it (probably an effect of Roosevelt's smooth voice which never strays too high or low in his range), but it's damn difficult to pump so many hooks out and not make one false move. "Colours" adds an extra layer of drama to proceedings, but on an album of memorable vocal lines, "Hold On" might have the best chorus, as a perfect counterpoint to its slow-motion verses.
6. Anderson .Paak, Malibu
We should have known when Anderson .Paak showed up all over Dr. Dre's Compton that he was about to take over the music world. With Malibu, he gave us some of the most richly-produced music anywhere near the umbrella of hip hop this year, wrapped in a warm hug of classic soul. With his now-signature rasp, .Paak imbued pathos in equal measure into ballads like "Silicon Valley" and the straight-up James Brown song "Come Down." Though his album with Knxwledge as NxWorries was also excellent and he stole the show on two other albums on this list, Malibu was .Paak's statement of genius, a work that will endure for years.
5. Chance The Rapper, Coloring Book
Chance took us to church. It speaks to his charisma and songwriting prowess that he could make a hip hop album so earnest, so open-hearted, and not have anyone within earshot call him corny. For some, the overt religious nature of songs like "How Great" can be overbearing, but the palpable sense of fun in "Angels," "All Night" and "No Problem" (which might be the best song of the year) more than overcomes any preachiness. Though he brought all his friends with him, Chance remains solidly at the center of Coloring Book, rapping as well as he ever has about subjects weightier than he's ever taken on. We are ready for our blessings.
4. Anohni, Hopelessness
Anohni (formerly of Antony & The Johnsons) has a whole new sound with production from Hudson Mohawke and Oneohtrix Point Never. What was once stately and orchestral became aggressive and electronic, and Anohni matches it beautifully with more passion and urgency than she's ever sung with before. The subject matter is relentlessly political, with stunner "4 Degrees" a scathing indictment of our indifference to global warming, and "Watch Me" a taunting missive against government surveillance. All the lyrics, when written out, seem sarcastic and teasing, but when you hear them, there's no mistaking the intent.
3. Bon Iver, 22, A Million
Justin Vernon has gone far beyond his lonely-guy-with-a-guitar-in-his-cabin days, with a shift towards electronic glitchiness reminiscent of Sufjan Stevens' The Age of Adz. Like Sufjan, Bon Iver's gift for melody remains intact, and he still has the voice of an angel. Any time you might worry that the music has lost itself in its complexity, that sonorous baritone or, more likely, the legendary falsetto brings everything back into sharp focus — especially "715 – CRΣΣKS," the successor to his Kanye-wooing "Woods." And yet, his most powerful song, "8 (circle)," uses very little of the experimentation of the rest of the album, leaving his voice pristine and reminding listeners that the rest is just window dressing. Bon Iver's best instrument at the height of its powers has but one equal in terms of emotive power, and he resides at the top of this list.
2. David Bowie, Blackstar
Bowie's death might have come as a blindside to all of us, the opening salvo in an unrelenting barrage of sadness in 2016, but he saw it coming. Blackstar is the sound of one of the greatest artists ever reckoning with his own mortality, and of course it's not treacly, oppressively sad or blandly inspirational. Bowie viewed death with unease, dark humor (of course) and disorientation — much like the rest of his career, in the manner of an alien viewing human emotion and experience with a David Attenborough-esque scientific curiosity. "Lazarus," with its accompanying deathbed music video, is his most immediate address to us, his most direct goodbye, but "Dollar Days" seems like something closer to the grave, as his lyrics speed up and slow down with the urgency of a man's last words over floating, jazzy instrumentation. As a final statement, Blackstar was impossibly dignified and impeccably cool — in other words, it's the only way Bowie could have ever gone out.
1. Frank Ocean, Blonde
After years of maybes and weeks of open questions, Blonde dropped on us and… where was the beat? It was frustratingly patient and understated when we wanted a triumphant return, but dammit, it was impossible to stop listening. With mostly just keyboards and gentle guitar as a background, Frank got naked right in front of us, laying thoughts universal and achingly personal all at our feet so plainly you could almost miss how much meaning every line could carry.
Of course, you don't even have to understand English to be affected by the music when song after song has instantly legendary vocal lines, from his evocation of heavuuuuun in "Solo" to the goosebumps-inducing "I, I, I, know you gotta leave, leave, leave" on "Self Control." Ocean knows what a versatile instrument his voice is, when he subtly and not-so-subtly pitch shifts just to come at his instrumentals from a slightly different angle. It's a hell of a trick he's played, to pay off breathless expectation with what initially sounded so weightless (especially considering the frustrating way he released Endless), but what, upon closer inspection, wound up as a massive statement of genius. Just like Frank, Blonde would rather retreat and have you chase it then just blare what it's trying to say — pretty sweet of him.