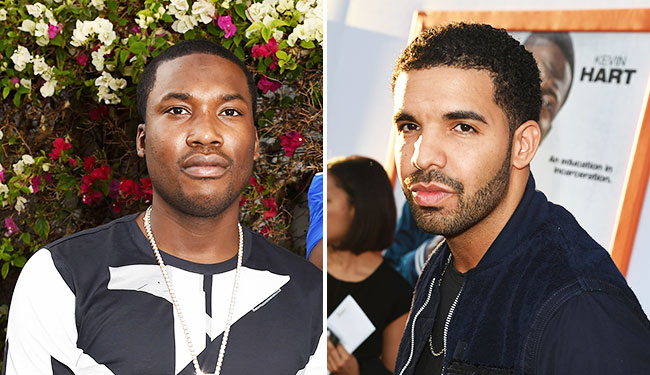 Always prone to foot-in-mouth syndrome, Meek Mill's just written another check his ass probably can't cash. A new video has surfaced with the Philly rapper claiming he would consider entering the boxing ring with his nemesis Drake and he's even got ideas for how Nicki Minaj can be involved.
The Instagram Live video surfaced on Thursday night and it allegedly appears to show Meek Mill in the gym while someone else has their video rolling on their cellphone. He can be heard saying that he would "break Drizzy the f**k up for five mil" during a convo about Soulja Boy and Chris Brown's supposed upcoming fight. "Of course I would," he says before following the comment up with another absurd one. "And we gone make Nicki the ring girl," a reference to his new ex-girlfriend.
https://www.instagram.com/p/BPLyathDH3U/
Minaj recently announced her split from Meek a little over a week ago. There have been slight hints of shade but both parties have been particularly mum about what led to their break-up.
Now, Meek's silly comment even brought out another one of the Pinkprint rapper's ex-boyfriends in Safaree Samuels, who apparently chimed in that he gladly would take Drake's spot if the 6 God was too busy.
First, Kodak Black wants to fight Lil Wayne and now Meek want to get in the ring with Drake? Somehow, Chris Brown and Soulja Boy are responsible for sparking this disappointing trend, one we can only pray ends sooner rather than later.