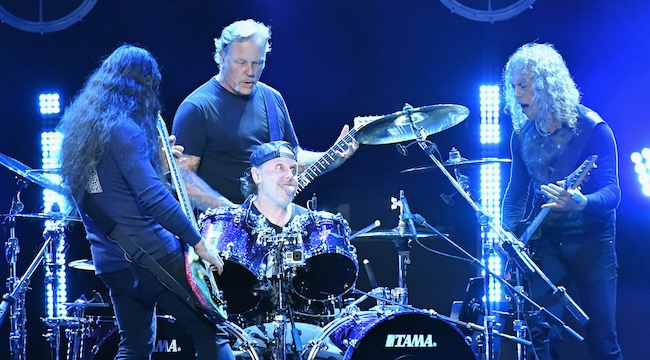 Former New York Yankees pitcher Mariano Rivera had a legendary career, and he retired after 19 seasons as perhaps the best closer in the history of baseball. He is so universally acclaimed, in fact, that yesterday, he became the first ever unanimous inductee into the Baseball Hall Of Fame. Aside from his pitching, Rivera was also known for entering games as Metallica's "Enter Sandman" played over the speakers at Yankee Stadium, and yesterday, he got a message of congratulations from the band that helped define his career.
Rivera was being interviewed on MLB Network, and during the segment, he was shown a brief video the members of Metallica recorded for him. In the clip, James Hetfield, flanked by the rest of the band, said "We, Metallica, took a vote here, and it's unanimous — congratulations from the entire Metallica family, Mariano, on your induction into the Baseball Hall Of Fame." Lars Ulrich then added, "It's well deserved, and we look forward to watching you enter the Hall this summer."
Rivera responded with a wide smile and said through laughter, "That is amazing!" However, despite his association with the band, he's not actually a particularly huge fan of them. Before that clip, Bob Costas asked Rivera how many of the band's concerts he has attended, to which the pitcher responded by saying that he only listens to Christian music: "With all due respect to the guys, I've never been to one of them. As a Christian, with all my respect to Metallica, I don't listen to that kind of music."
Watch Rivera's full MLB Network interview here, and below, watch Rivera enter his final game at Yankee Stadium back in 2013.