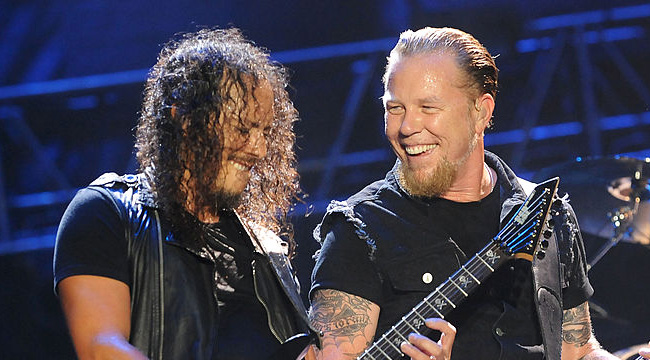 (alt heds: Metallica Is Still Tweaking Their Album Due Out In November/Metallica's New Album Has A November Release Date, But They Aren't Done Working On It/Metallica's New Album Is Still Being Worked On/Metallica Are Putting The Finishing Touches On Their Album Due Out In November
Metal legends Metallica are about to release their first new album since 2008's Death Magentic. The album, Hardwired…To Self Destruct, is scheduled to be released on Nov. 18.
We've already heard one song from the album, "Hardwired," and everything seems to be going swimmingly. The only minor hiccup? Metallica isn't done working on the album yet.
Yes, even though the album is set to be released in nine weeks, they have not finished putting the album together. Now, it's not like they have a lot of work left to do. NME reports via an interview frontman James Hetfield did with U.S. radio station 93.3WMMR that the band is still polishing it up. "It is, by all means, done as far as songs go," he said. "So it's just artwork and little things here and there we're still working on."
What are those "little things here and there" that Hetfield mentioned? He explained that as well:
"There's always something: 'Ah, this is a little too long-winded. Let's cut this out. Let's make this a little more potent.' We're craftsmen, and we want to make this as sharp and potent as possible. So all the way up to the last minute, even the running order, there's always something we're thinking about and trying to make it the best."
Well then, it seems like nobody has to worry about Hardwired…To Self Destruct not arriving on time. That is, unless Metallica get a little too specific about everything. Then, it could end up late, and Metallica fans would have to get by with the decades worth of albums they have already released.