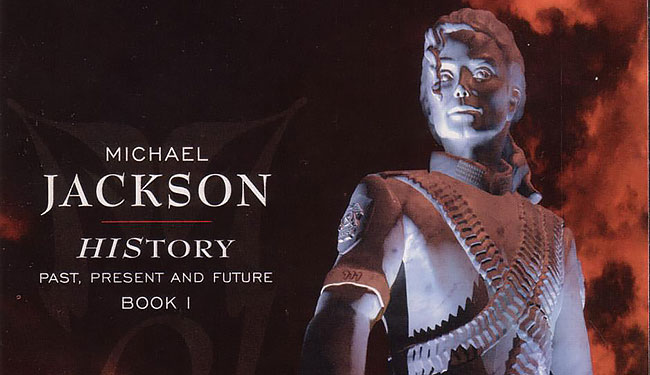 Tuesday is the 20th anniversary of Michael Jackson's HIStory. In addition to having megahits like the Janet Jackson-featuring "Scream" and "You Are Not Alone," HIStory will probably be forever known as the highest-selling double album of all time. It's another testament to Jackson's commercial greatness.
And it's still not good enough to make it on this list. Jackson's post-Bad career was soured by how he decided to replace joy with aggression to fend off critics, and HIStory doesn't have enough of the artistic aplomb and ambition that's needed for a double album.
These 10 albums do, though, which is why they're the greatest double albums of all time. Read to find out why before arguing.
Honorable Mentions
M83, Hurry Up, We're Dreaming
Jimi Hendrix, Electric Lady
Bob Dylan, Blonde on Blonde
James Brown, The Payback
R. Kelly, R.
The Rolling Stones, Exile on Main St.
Led Zeppelin, Physical Graffiti
10. Sonic Youth, Daydream Nation
Perhaps in an alternate universe, Daydream Nation would have been the anthem for the disillusioned Generation X. It's an album composed of detritus: Kim Gordon sounds constantly detached, and guitarists Thurston Moore and Lee Ronaldo had zero respect for standard EADGBE tuning. Sonic Youth continuously improved until Daydream Nation, a beautiful mess of an album. That's not to say it's like watching a car wreck from afar. Daydream Nation's mess works because of how it resonates with listeners, drawing in those who are equally and inherently messy. Daydream Nation is avant-garde, but rarely abrasive — the whole thing plays like a dream.
9. OutKast, Speakerboxxx/The Love Below
OutKast's career since signing to LaFace Records has gone upward and apart. Big Boi was the earthy slick-talker, and Andre 3000 was the ATLien. Eventually, there were too many atmospheric layers between them to reconcile their differences. So in 2004, they decided to fracture the OutKast experience, spreading it to two separate discs: Big Boi's funkier and superior Speakerboxxx, and Andre 3000's experimental and frequently compelling The Love Below. Andre 3000 decided not to rap anymore and the future of OutKast was in doubt, but at least the thing was a success. Speakerboxxx/The Love Below went diamond, and it's so far the last hip-hop album to win a Grammy for Album of the Year — not that either should be the deciding factor of why it's an essential. It's the final peak of hip-hop's second-greatest duo.* You're obliged to listen.
*And if you must ask, No. 1 goes to Chuck D and Flava Flav.
8. Wu-Tang Clan, Wu-Tang Forever
Ironically, the Wu-Tang's final essential group album thrived off the very thing that eventually blew it apart: ambition. There were just too many world views to align without bursting at the seams. Forever, albeit bloated, was the last time the army was truly united in its world-conquering ambitions. RZA and co. expanded the surroundings past the Shaolin concrete. The technical skills were still intact, and as result, you have lucid poetry ("The M.G.M."), heartbreak (Ghostface's legendary "Impossible" verse), and classic Wu-bangers ("Triumph"). A few strong solo albums came after, but none stood strong as a statement.
7. Miles Davis, Bitches Brew
It's the jazz album for people who don't do jazz. It's also the album for people who think jazz rock stars aren't really a thing. Davis made his name on breaking song structure. With Bitches Brew, Davis included rock-style improvisation and explosiveness into his compositions. The result was a 90-minute tour de force that feverishly swings from the thrilling to the surreal.
6. The Notorious B.I.G., Life After Death
Nobody knows what would have become of Biggie's work had he lived. Life After Death saw him move in line with the shiny-suit lifestyle that saturated the late '90s, which brought potential for mediocrity there. Life After Death is far from mediocre, though. While the epochal Ready To Die proved Biggie was hip-hop's finest storyteller, Life After Death proved he was also one of its most charismatic figures. Throughout its 100 minutes, he's a heavyset player who hits the casino with Jay Z ("I Love The Dough"), doubles as a raconteur ("Niggas Bleed"), and still finds time to talk some sense into these drug dealer's heads ("Ten Crack Commandments"). It was sometimes funny, sometimes poignant — and it was Biggie.
5. The Beatles, The White Album
The Sgt. Pepper's Lonely Hearts Club Band made one of the greatest albums in modern music, but it wasn't real. Billy Shears and the gang had to return to being the Beatles at some point, and that comedown was a harsh one. The '60s' greatest band was corroding: Paul McCartney and John Lennon were constantly fighting, Yoko Ono would become one of popular music's biggest scapegoats, and Ringo ended up quitting the band at one point. The result was a chaotic album, one that was raucous ("Helter Skelter"), tender ("Blackbird"), and straight-up absurd ("Revolution 9"). The whole thing was an hour and a half, and somehow worked. The White Album mixed Revolver's capriciousness and and Sgt. Peppers' escapism.
4. The Clash, London Calling
The problem with youth rebellion is how it advocates the deconstruction of social order without offering an alternative. The Sex Pistols were guilty of this, although their music was too exciting to care about that sort of stuff. London Calling kind of is at fault, too, but its lasting impact lies in how it's more pro than anti. As it moved away from the punk template, The Clash's greatest album gave a space to those that gave color within a crumbling bureaucracy, whether we're shouting out those who were about that live-fast-die-young life ("Death or Glory") or paying tribute to the rude boys of Jamaica ("Rudie Can't Fail"). And so we sustain as the Thames River rises.
3. 2Pac, All Eyez On Me
All Eyez on Me pushed 2Pac's Thug Life maxim thrice-fold, which inherently makes it an all-time scepter for West Coast hip-hop. It also symbolized his deal with the devil, too; Shakur signed with Death Row in exchange for Suge Knight bailing him out of jail. But All Eyez On Me isn't the sound of 2Pac rapping with chains around his ankles. While the superior Me Against The World examined 2Pac the person, All Eyez On Me was the most potent presentation of 2Pac the person. It boisterously laid out his complexities, chutzpah and paranoia. Shakur is a folk hero after death, and All Eyez On Me lays at the center of his mythology.
2. Stevie Wonder, Songs in the Key of Life
Stevie Wonder's best albums always had a sense of joy, but he's had to fight for it. Ronald Reagan was consistently full of sh*t. Poverty and racism afflicted the black community. Women broke his heart. There's something powerful about smiling through that pain, but Songs in the Key of Life carried a whole other light after stripping some of that determinism. It's virtuoso musicianship propelled by love: love of mother Earth ("As"), love of blackness ("Black Man"), and an audacious love that transcends time (the album-ending "Another Star"). Songs in the Key of Life bookended one of the greatest streaks in pop history (Music of My Mind, Talking Book, Innervisions and Fulfillingness' First Finale). If it was Wonder's lone masterpiece, he'd still be in pop culture's history books.
1. Prince, Sign O' The Times
[Go to Spotify or something. Prince and YouTube don't mix]
The only way you'd know that a good portion of Sign O' The Times was leftovers is if you looked it up. Actually, a majority of the tracklist comes from the aborted Camille and Dream Factory sessions. But regardless of whatever skeletal or edited state they were in, they appear fully realized, whether the songs are deeply subversive ("If I Were Your Girlfriend") or just focused on whimsy ("Play in the Sunshine"). Sign O' The Times is all over the place. Although it's frenzied, Prince's final classic is somehow copacetic in its sequencing, impressively weaving through primal pleasures ("It") and the like before closing with "Adore," his most endearing ballad. When Sign O' The Times was released, Prince had already lost the race for biggest pop star ever to Michael Jackson by a couple million units. But Sign O' The Times made it clear Prince was at least pop's most kaleidoscopic star, and people are still dancing 28 years later as a result.