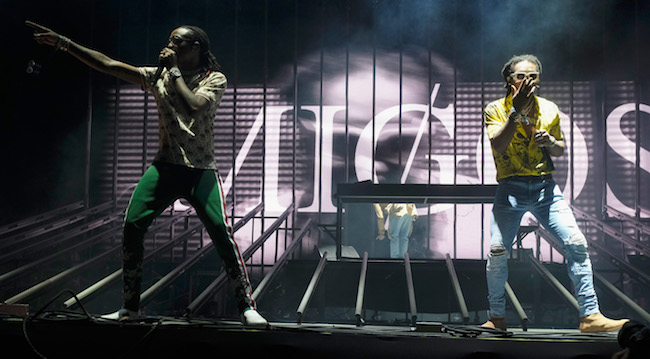 Migos' 2017 just keeps getting better. The trio's latest album, Culture, has been certified platinum for sales exceeding a million sites. The group took to social media Wednesday night to announce the honor, which came less than three months after Culture dropped in January. Their sophomore album, a follow up to 2015's Yung Rich Nation, was propelled by the massive success of "Bad And Boujee," which itself was certified platinum just days before Culture was released. With an assist from Lil Uzi Vert, "Bad and Boujee" also spent a week as the No. 1 song in the country.
Offset also posted a video on Instagram to celebrate the group's latest achievement, talking big about their plaques while flashing around a fat stack of cash.
Culture debuted atop the Billboard 200 with 77,000 album equivalent units, 44,000 of which were from actual album sales. If this seems like a massive spike in just under three months, remember that the RIAA updated its criteria in 2016 to count 1,500 audio or digital streams as 10 track sales, which is equivalent to one album sale.
We'll see how else Migos decides to celebrate their newest award. The bar to surpass is Offset's $100,000 raindrop chain, which he bought to commemorate "Bad And Boujee." They recently talked about acquiring a white tiger after visiting Mike Tyson. They would certainly do the trick.