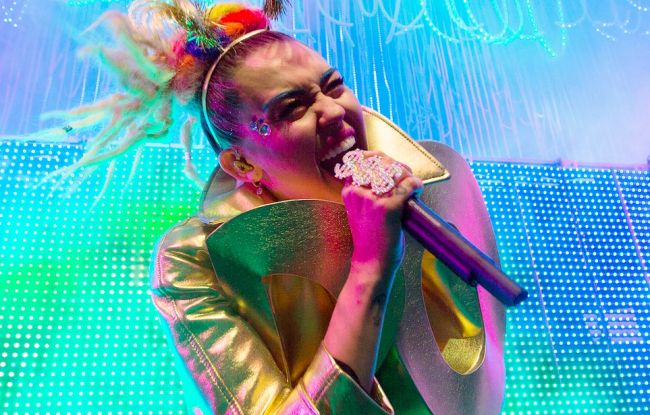 She's just being Miley, but now with a penis.
Miley Cyrus kicked off her Milky Milky Milk Tour, originally known as the Miley Cyrus & Her Dead Petz Tour, on Thursday night in Chicago.
Fans paid $69 for tickets, of course, including one who waited outside the Riviera Theatre for more than 30 hours. "She's my favorite person in the entire world," she said, "and this was my chance to see her up close and personal." Perhaps a little too up close and personal. For much of the 20-song set, Miley wore "metallic bondage-style underwear and matching thigh-high boots," as well as fake boobs and a prosthetic penis. It's a classic look.
Miley's regular tour companion, 6-foot-7 dancer Amazon Ashley was also clad in some racy looks, joining the singer on stage in a pair of silver leggings, gold dollar print nipple pasties, and a huge rainbow wig, as Miley proceeded to nuzzle her chest. (Via)
All of Miley's current psychedelic weirdness — at one point, she dressed as the sun while wearing moon boots; later, she played "Evil Is But a Shadow" in front of a kaleidoscopic backdrop — can be traced back to her admiration of The Flaming Lips, who joined her in Chicago. She was 7 years old when The Soft Bulletin came out, which has nothing to do with anything, other than I feel really old. Anyway, her short tour will continue to Detroit, Washington, D.C., New York City, Philadelphia, Boston, Vancouver, and Los Angeles.
She should have a themed fake penis for every stop.
(Via the Daily Mail)