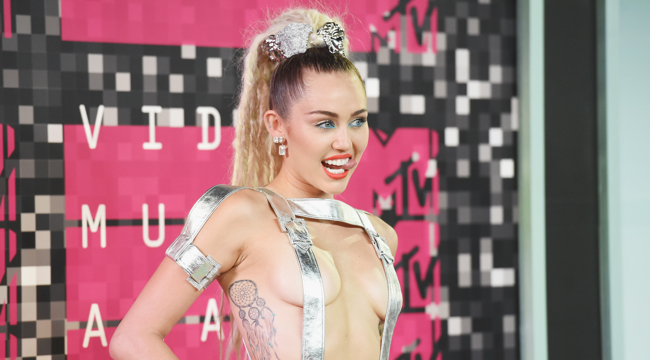 Miley Cyrus did not fail to bring the drama when hitting the red carpet for her MTV VMAs hosting gig. She showed plenty of skin in a space-age getup, which is only the beginning of what she has planned for Sunday evening's extravaganza. Her dress is custom Versace, although a fashion ID is the last thing on anyone's mind tonight. Are you looking at the dress' detail and all the work that went into its construction? Doubtful, and you are not alone.
Regardless, Versace's team must have toiled for months to pull this look together, and they successfully beat out plenty of competitors for this magical moment. Jeremy Scott of Moschino will surely be kicking himself for losing out on this valuable opportunity. Say what you want about Miley, but she knows how to sell an outfit. She knows all eyes are on her and is working the spectacle for every available angle. Well played.
The VMAs are the most exciting annual event in music, and we surely have plenty of stunts left to go before the evening ends. Miley got everyone off to a good start with this super-mega "controversial" outfit. Stay tuned for more stunt-queening coming right at ya.