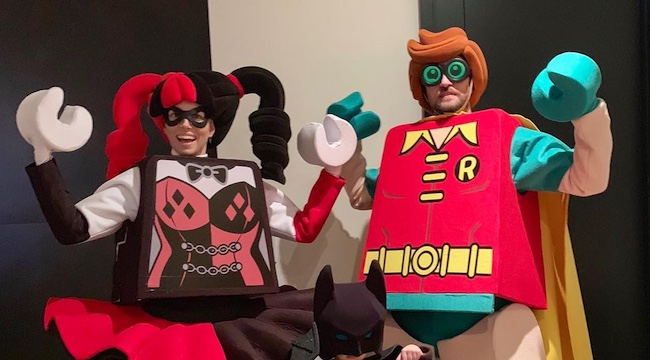 When you're a musician for a living, there's a decent chance that dressing up in ridiculous and attention-grabbing ways is a big part of your job. It makes sense, then, that when it comes time to put in your best effort for Halloween, these professional creatives get pretty darn creative. The music world shows up every year in the costume department, and there are a bevy of winners in 2018.
As far as who takes home the honor of most impressive costume, that distinction may have to go to Rita Ora, who really committed to her Post Malone look, complete with facial tattoos, facial hair, and grills. That said, Halsey's skin-bearing Poison Ivy get-up was also executed at a high level, so she's definitely in the running as well.
Meanwhile, Dave Grohl got into the spooky spirit, Red Hot Chili Peppers all dressed up and performed at Chad Smith's son's school, and the pairings of Justin Timberlake and Jessica Biel, and The Weeknd and Bella Hadid both make strong cases for best couples costume. (You can find The Weeknd, and Ora's, looks in our round-up of hip-hop costumes.) Ultimately, everybody's having fun and it's all subjective, so check out some other musician Halloween costumes below and pick your own favorites.
Dave Grohl
Justin Timberlake and Jessica Biel
Harry Styles
Rihanna
https://www.instagram.com/p/BpoAzxzlq7p/
Red Hot Chili Peppers
Halsey
Haim
Miguel
https://www.instagram.com/p/BpoDygbgpKd/
Mariah Carey
Kehlani
https://www.instagram.com/p/Bpn1csyllTy/
Wiz Khalifa
Swae Lee
Diplo
Mø
Joey Fatone