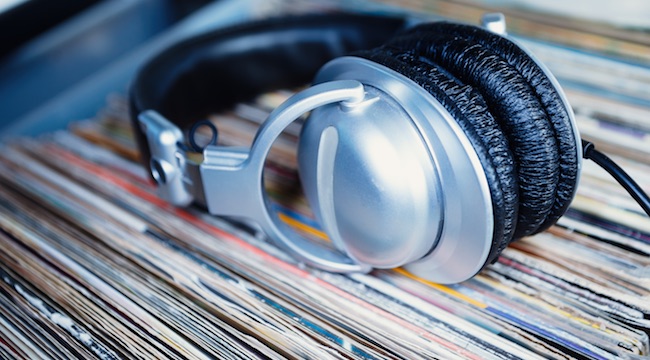 Music lovers are easy to shop for, full stop. The breadth and scope of the artform offers room for so many instruments, gadgets, and accessories, that anyone complaining about getting a Christmas or Hanukkah gift for a loved one is usually grumbling about the sheer volume of options, not a lack thereof. So, given how many familiar or predictable gifts there are for a music lover, this list strives to go off the beaten path just a bit, surfacing unusual or over-the-top presents along with some of the simpler, standard fare. Dive in below.
Vinyl Me, Please Subscription
This one is a no-brainer, and I really can't imagine there's many music lovers or vinyl obsessives out there who aren't already aware of the good people at Vinyl Me, Please anyway, but bear with me. With three tiers for their standard plan, you can either commit month-to-month, in quarterly chunks, or for a solid year, and come in under $30 a month or less via any option. In exchange, you get access to an incredible member's store full of exclusive vinyl releases, a monthly record sent directly to your home, and a whole community of fellow music-lovers. Additionally, this year the service offers two more curated routes as well — the classics subscription or the rap and hip-hop subscription — which helps tailor your monthly record to the genre or era of your choice. Oh, and if you sign up, don't forget to thank me when gems like the new St. Vincent record show up at your house without you even having to do a thing. Select a subscription here. $25-$29.
Beats By Dre's Studio3 Wireless
Yes, for the average listener, the Studio3 Wireless headphones are a bit on the fancy side, and yes, potentially even on the pricey side ($350). But, for the obsessive, these are the only headphones that will do, and with good reason — their quality is unsurpassed. Consider a pair of Beats By Dre headphones an investment, if you get someone a pair, they'll never have to buy a set again. The latest Studio3 update allows for 22 hours of wireless playback with Adaptive Noise Canceling (40 hours with this feature turned off), and class one Bluetooth connectivity that gives you fewer dropouts with a longer range from your device. Plus, there's a fast fuel option that gives you three hours of playback after just ten minutes of charging. These are headphones for the serious listener who is always on the go, and they will last a lifetime. Get a pair here. $349.95.
Lyric Speaker
In an increasingly visual and multimedia world, the best way to get to an elevated new level with music is to add an interactive element. That's exactly what the lyric speaker does, displaying the words of the song that's currently playing simultaneously with the music itself. This speaker is a great addition at parties, great for when you're obsessing over a song and want to learn it as intimately as possible, and definitely a shoo-in for favorite gift of the year if you grab it for a karaoke lover. That very well might be the case. Be aware, this product is still extremely rare, which means the technology is still gonna cost you a pretty penny. The Japanese device is made by a company called COTODAMA, which translates loosely to "soul of words," indicating that the words themselves have an impact on your listening experience. Get one here to find out. $4,500.
Ultimate Ears Pro
https://www.instagram.com/p/BcSipkmllLy/?taken-by=harmonicait
While this gift might cost a pretty penny, it is unequivocally one of the best-customized listening experiences money can buy: Custom in-ear monitors. For the die-hard fan who wants to hear music how the artist themselves might hear it, a pair of Ultimate Ears Pro is the splurge of a lifetime. First, the company does a scan of your ear itself, in order to create a set of in-ear monitors that are molded directly to the shape and size of your ear via 360-degree digital production with digital ear scanning and printing. After the scan of your ear impressions — which can also be done at any audiologist's office if you're not within range of their Hollywood store or Irvine shop — the company lets you select cord range and color, and the color of your monitors. Then they handmake the monitors to suit your needs. When I went in for a fitting, of course, I chose my signature favorite — millennial pink. But the best part is that they even give you a customized case with your name or nickname on it (I went with @harmonicait) and a soft bag for safekeeping. Prices range from $400 up to $1500 for the customization, but the resulting crystal clear listening experience is well-worth the investment. Begin your own customization process, or gift one to someone else, here. $400–$1500
Johnny Cash, Unearthed Vinyl Box Set
When Johnny Cash died back in 2003, a CD version of this set was released. It contained a nine-disc set of The Man In Black's most critical recordings, along with a coffee table book — housed in cloth-lined slipcase no less. Updated for 2017 and the growing demand for vinyl versions of sets like that posthumous CD collection, here is a tribute to Cash in all his glory. This is a suitable gift for any Cash obsessive, or a country music lover looking to grow their knowledge. And unlike the CD set, this one is guaranteed to age beautifully. Buy it here. $246.99
All-in-one record player
This is my dream record player, which I don't own yet, so if anyone feels like gifting this to ME, feel free. But why is this the player I want, with the plethora of options out in the world? Because this is the player for all those vintage, analog lovers who are not only obsessed with vinyl, but still fuck with CDs, and also want to play the occasional tape. Oh, and it also has a radio component built in, along with internal speakers. Finally, it has USB and digital recording capabilities, so you can transfer tapes, CDs, and records into MP3s in your music library. That means it is literally an all-in-one, one-stop shop for any kind of music file, and empowers you to convert them, too. For all the publicists who still send me CDs and tapes, I love you, but until I get this, I can't listen. Hopefully, my family is reading this and pools together to get me one (I want black though, and that's currently unavailable, so maybe hold off until my 30th birthday in March?) Get one in Walnut for your own audiophile obsessive here. $339.
John Prine, Beyond Words
This year more than any other in recent memory it became clear that we are slowly but surely losing a generation of musical legends. Since that's the case, it's become more important than ever to honor our living legends while they are still here, and there are few figures in country music who are more legendary than John Prine. In his first official book, Prine curates "a selection of his favorites songs, photographs, and stories from his catalog," and the book also includes all the photographs he discusses, copies of early, handwritten lyrics, and the chords for over 60 of his classic songs. It's a must-have for a country music lover or a John Prine fan, and a great representation of the best way to do a music book — by including the music in the pages. It's right there in the title, this book goes beyond the words. Get a copy here. $34.99
Google Home
While much ado has been made about the AI technology in the new Google Home or Amazon's Echo, the truth is that for a music obsessive, this item is a godsend. If you already have a speaker system, you can control even a multi-room setup by connecting a Google Home and operating the music with a few simple voice commands. The speaker is equipped to recognize when you are specifying a particular app — like Spotify or Apple Music — which set of speakers, and even which artist or genre to begin playing. If that doesn't sound like a heavenly addition to parties, dates, and dinner parties, I don't know what does. Get one here. $79.
ROLI's Seaboard Block
Most musicians are constantly on the go, and lugging around an instrument is quite a drag if you're not on official tour with roadies and a big van for all the gear. Enter the Seaboard Block, and other portable keyboard technology from ROLI. This little miniature keyboard makes music in 5D (five dimensions of touch), comes equipped with a huge library of sounds, and includes a host of software that can wirelessly sync up with computers and other blocks. The Seaboard Block most closely simulates a keyboard and comes in a few sizes, but ROLI offers plenty of other technology-based instruments that create beats, loops, or help song makers realize their visions, even when they're not in a full studio. Get the Seaboard Block here. $299.95.
Yeah Yeah Yeahs' Fever To Tell Deluxe Vinyl Set
Given the popularity of this year's early 2000s rock book Meet Me In The Bathroom, Karen O and co. have been enjoying a late-career resurgence. The Yeah Yeah Yeahs were a critical part of that rock revival in New York City, and Fever To Tell was a crucial part of their narrative. This box set goes above and beyond to help establish and preserve the band's legacy, including "the original album newly remastered on 2LPs, with nine unreleased demos, eight b-sides and rarities, and five newspaper lyric posters." Only 2,000 copies of this set were made and all of them were signed and numbered. Not only that, but the set also comes with tons of other extras, like a "164-page hardbound photo book of Nick Zinner's personal photos and includes pages from Karen O's personal notebook, an embroidered iron-on patch, sticker, a "custom champagne cork 8GB USB stick" that has video content and all the audio tracks from the vinyl in the set. Get your box set here. $195
Vibes Hi-Fidelity Earplugs
These earplugs also showed up on the indie rock gift guide, because let's face it, where are you more likely to get your eardrums blown out than in an unregulated DIY space? But, I'm including them here, too, because of how important ear health is, especially for people who attend shows all the time or are constantly around super loud noise. Protecting your ears and maintaining the health of your own listening experience is an extremely overlooked element of working in the music industry. Help your loved one prioritize it by giving them some high-end earplugs that don't muffle sound, but they lower the volume of the entire environment, all while completely invisible because they're made of clear material. Get a pair here. $23.99
A Pair Of Concert Tickets
If you know the person you're buying a gift for really well, or if they have just made their fandom beyond obvious, why not consider grabbing them a pair of tickets to their favorite show as a gift? Tours are planned out far enough in advance these days that this is a pretty safe bet, and outlets like Ticketmaster have upped their game to include a verified tickets option, that allows fans to safely trade in their tickets if they can't make it for some reason or need to reschedule. So, without that worry, investing in some primo tix is a great look for a gift. This is a great time to plug Lorde's amazing Melodrama tour, which will be dominating 2018 with opener and indie legend Mitski, or St. Vincent's Fear The Future tour, which is currently in Europe but comes to America early next year. Be fearless, and give a music lover what they really want: Live music. Pick up a pair here.
Sonos Speakers
For those who don't yet have a full speaker setup, a Sonos system is a great place to start. There's a variety of different units and they connect together perfectly if you buy them separately and continue to build out your system. For the holidays, the company is running several special pricing options. You can get $50 off the mini-home speaker, the PLAY:1, or a bit bigger, the mid-size home speaker, the PLAY:3, while supplies last, or their all-new Sonos One model, which actually comes with Amazon's Alexa built right in, eliminating the need for a Google Home middle man. If you're reading this guide today, you're well aware that Christmas is just around the corner. Luckily, Sonos has you covered, and offers same-day delivery up until 6pm on Christmas Eve (!) That is a stellar option for a procrastinator like me. Check out their "up&running in-home delivery option" option at checkout, and begin shopping for speakers here. $149–$249.