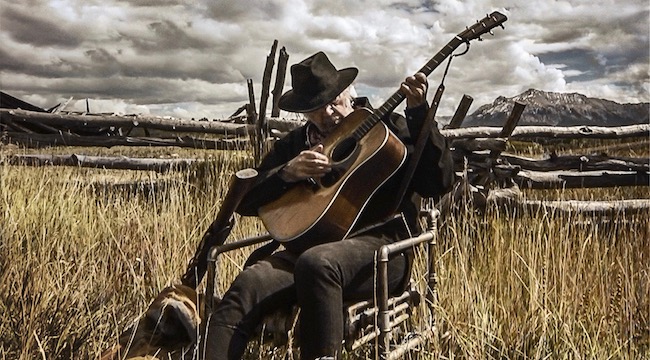 Just days before the film Paradox, a western that was directed by acclaimed actress Daryl Hannah, finally debuts at SXSW, Neil Young, the movie's star, has announced he's going to release an album of new music from the film next week. Joined once again with his preferred late-career backing outfit, Promise Of The Real, Young has put together a large collection of new tunes that's been incorporated with the film, that's set to drop on March 23rd.
Kicking off with a track titled "Many Moons Ago In The Future" that's narrated by none other than Willie Nelson, Young has assembled an album comprised of brand new material written with Willie's sons' Micah and Lukas, as well as a bevy of blues covers first recorded by the likes of Leadbelly and Jimmy Reed. Those hoping to hear these new songs live would be wise to cop a ticket to this year's Arroyo Seco Weekend on June 23, in Pasadena, CA, which, as it currently stands, is Neil's only scheduled gig of 2018.
The album Paradox is set to drop on digital streaming services and on vinyl on March 23rd. Check out the full tracklist below.
1. "Many Moons Ago In The Future"
2. "Show Me"
3. "Paradox Passage 1″
4." Hey"
5. "Paradox Passage 2
6. "Diggin' In The Dirt"
7. "Paradox Passage 3"
8. "Peace Trail"
9. "Pocahontas"
10. "Cowgirl Jam"
11. "Angel Flying Too Close To The Ground"
12. "Paradox Passage 4"
13. "Diggin' In The Dirt"
14. "Paradox Passage 5"
15. "Running To The Silver Eagle"
16. "Baby What You Want Me To Do?"
17. "Paradox Passage 6"
18. "Offerings"
19. "How Long?"
20. "Happy Together"
21. "Tumbleweed"