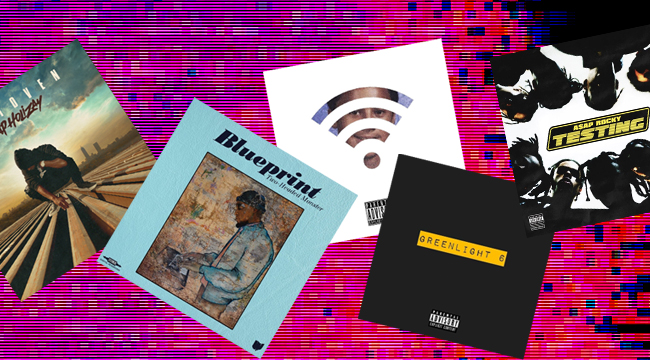 As the weather warms and we near the summer months, it looks like more and more long-dormant MCs are waking from their cold-weather hibernation to serve up fresh material to keep our cookouts cracking. Joining the incoming procession of a big names and big releases, ASAP Rocky promises his new album, Testing, will hold up against any other this summer; in fact, his confidence is so high that he's releasing before his biggest competition in Kanye West, Kid Cudi, Drake, and Nicki Minaj.
He also supposedly faces off with Pusha T, whose long-awaited King Push was promised by Kanye on Twitter not too long ago. Pusha himself called the album "flawless," but since there isn't a cover, tracklist, or so much as a single currently out with Pusha's name on it, it's hard to say whether or not Friday will actually live up to their hype, or if the mercurial Kanye was merely trolling us all one more time.
Rounding out the competition for your attention this Friday, Rhymesayers' Blueprint and fellow Midwesterner Bow Wow both return with new albums after extended breaks from the game and two artists make their solo debuts: Veteran producer Zaytoven and Floridian Interscope rookie, Wifisfuneral.