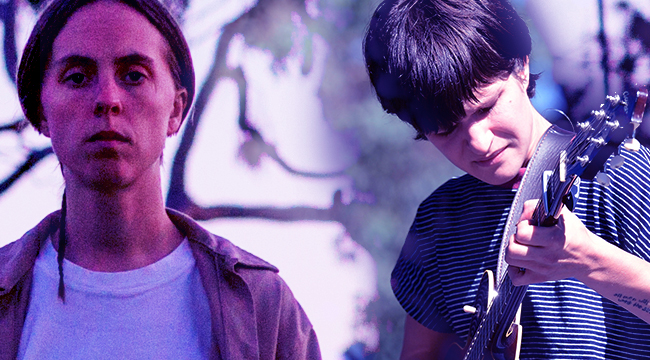 Indie music has grown to include so much. It's not just music that is released on independent labels, but speaks to an aesthetic that deviates from the norm and follows its own weirdo heart. It can come in the form of rock music, pop, or folk. In a sense, it says as much about the people that are drawn to it as it does about the people that make it.
Every week, Uproxx is rounding up the very best of the indie releases from the past seven days. This week saw a surprise new album from Lomelda, a mighty return by Big Thief, and Hand Habits emerging with one of the best indie records of the young year. Yeah, it was a pretty great week for new indie music.
Hand Habits — Placeholder
[protected-iframe id="4b50566b87e8d49a979bf778258ff27d-60970621-76566046″ info="https://open.spotify.com/embed/album/7y3l8rXPVyAspEngY1Beev" width="650″ height="380″ frameborder="0″]
Meg Duffy might be known by some as the guitarist for Kevin Morby, but on this excellent new album, they have built their own world which eclipses any supporting work from their past. Uproxx's Steven Hyden called it "an autobiographical record that emerged from a "pissed off" time in Duffy's life, Placeholder is more atmospheric than show-offy, in which Duffy's tasteful, restrained playing supports the delicate melodies and reflective lyrics.
Lomelda — M For Empathy
[protected-iframe id="9c015441e23d68d1f7e6fbae3b14acc0-60970621-76566046″ info="https://open.spotify.com/embed/album/0pJhS1FW6oVe9FV8WeWBv9″ width="650″ height="380″ frameborder="0″]
It's not the biggest surprise album of the week (or even really the second biggest surprise album), but Lomelda's latest still feels like a gift for her devoted fanbase. The songs often feel like sketches, where the brilliance is stumbled upon and shared in its rawest form. Writing about the record for Uproxx, Sasha Geffen said, "Despite their truncated lengths, these songs tackle weighty ideas: the difficulty of human communication, the distance between people that looms inside even the closest relationships, and the isolation and despondency that can arise when the distance seems to outweigh the connection.
Delicate Steve – 'Till I Burn Up
[protected-iframe id="d4a6042cf772e1fc99c7c4c3b035475b-60970621-76566046″ info="https://open.spotify.com/embed/album/0kfjnSmIHHOmCYi0tQRgai" width="650″ height="380″ frameborder="0″]
There isn't a lot of room for guitar wizards in the modern music climate, but Delicate Steve uses that novelty to his advantage. Fresh off some great collaborative work with Amen Dunes, Steve is back on his own and happy just being himself. "There is a confidence that comes with abandoning the idea of wanting to create something that everyone might like to check out," he said about the album in a statement, which might make people want to check out his album even more.
Big Thief — "UFOF"
One of the great joys of listening to Big Thief is how the delicate intersects with noisier, full-band inflections. The harmony of how these elements work together is often captivating, and it makes the band's latest single, "UFOF," such a success. As Uproxx's Chloe Gilke notes, "'UFOF' sparkles with tenderness for the unknown. Lenker's soft and resonant voice leads the multilayered, warm track through unexpected musical flourishes and a grounding guitar."
Wild Pink — 5 Songs EP
[protected-iframe id="b5e6363139cb08128f4ca8303c316b2b-60970621-76566046″ info="https://open.spotify.com/embed/album/6zJPG17EfjDkB3zMk6uuPj" width="650″ height="380″ frameborder="0″]
Fresh off the release of one of our favorite albums of last year, the incredible Yolk In The Fur, Wild Pink are back with this shorter collection. It's made up of three remixes and two new tracks, with the latter more than enough reason to check out this offering.
Elva — "Athens"
If that voice in Elva sounds familiar, it's because Elizabeth Morris is an indie rock vet whose old band Allo Darlin' is among the most underrated of recent years. Fans of that project will take joy in her new duo with Ola Innset of the Norwegian bands Making Marks and Sunturns. Her voice is warm and soothing, and has always struck me as a kindred spirit to Michael Stipe. It's a joy to have her back.
Hatchie — "Without A Blush"
We all knew Hatchie has loads of potential when she released her Sugar & Spice EP last year, and now she is back to cash in on the interest that mini project created. "Without A Blush" mixes shoegaze and indie pop for a remarkably palatable concoction that doesn't sound much like other things in the indie world. It's ambitious, sprawling, and filled with hooks on top of hooks, enough to make you forget this is still an artist with a debut LP yet to be released.
Kevin Morby — "No Halo"
The tweaks to songwriter Kevin Morby's aesthetic always feel incremental, with his sharp perspective and brooding vocals the constants that hold his music together. Still, "No Halo" is more foreboding than he usually is, with the song served on a bed of handclaps that increase the song's tension by the moment.
Deafheaven — "Black Brick"
Seven minutes of possessed dragon vocals? Furiously blasting drums? Wailing guitars? Yup, must be a new Deafheaven song. As one of the most exciting metal bands on planet earth, the band certainly has a formula worked out. But "Black Brick," a b-side to their great 2018 effort Ordinary Corrupt Human Love, also stands apart from their past work in how it moves away from their sprawling post-metal in favor of something more traditional and heavy. Regardless, it still sounds like the fuel to run through walls.
Some artists covered here are Warner Music artists. Uproxx is an independent subsidiary of Warner Music Group.
IF you want even more indie music, sign up for our newsletter, Indie Mixtape, curated by Steven Hyden here.