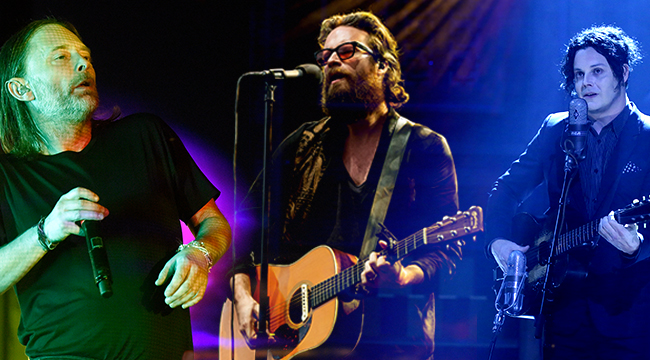 Indie music has grown to include so much. It's not just music that is released on independent labels, but speaks to an aesthetic that deviates from the norm and follows its own weirdo heart. It can come in the form of rock music, pop, or folk. In a sense, it says as much about the people that are drawn to it as it does about the people that make it.
Every week, Uproxx is rounding up the very best of the indie releases from the past seven days. This week found Jack White's The Raconteurs returning after ten years, Father John Misty debuting a new song live, and Thom Yorke getting in the holiday spirit. Yeah, it was a pretty quiet week for new indie music.
The Raconteurs — "Sunday Driver" and "Now That You're Gone"
Jack White is a man of many interests, and The Raconteurs are just one of his many projects. On the project's first new music in a decade, White shares vocal duties with Brendan Benson for a pair of straightforward rockers that feature White's wailing guitar prevalently.
Father John Misty — "New Song"
Musicians have been rallying in Southern California to raise money for devastating fires, with Katy Parry notably holding an event in Malibu and the Red Hot Chili Peppers scheduling a concert with Beck and St. Vincent in a couple weeks at the Palladium. Father John Misty also threw a concert, which featured the likes of Haim, Beck, and Rostam at the Theatre At The Ace Hotel, and debuted this new track at the event. He's been offering up new music at a rapid pace, all remarkably sharp and essential, and this one just adds to the heap of instantly devastating songs. We're witnessing a prolific period from a master.
William Tyler — "Call Me When I'm Breathing Again"
With his new album, Goes West, coming out in January on Merge, acoustic guitar maestro William Tyler offers up another new tune, "Call Me When I'm Breathing Again." It's a striking instrumental that bridges delicate phrases with crisp and deliberate moments, with collaborator Meg Duffy providing an excellent foil for Tyler to play off.
Laura Stevenson – "The Mystic & The Master"
Happy birthday to the mom of Laura Stevenson! The singer celebrated her mom's birth by releasing these two new songs. "The Mystic & The Master" in particular is a stunner, slowly building from just Stevenson's voice to include lush flourishes, moments where all the cues lineup to take the song into another galaxy. The song's message is ultimately one of appreciation for her mother's sacrifice, delivered in a way that's unforgettable.
Thom Yorke — "Silent Night"
Of course "Silent Night" is the Christmas song of choice for Thom Yorke. It's elegant and suited for his crystalline vocals, rooted in tradition and iconic, known by everyone but still shrouded in a bit of mystery. And just a few days before Christmas, Yorke mashed it up with the Radiohead classic "Reckoner." Happy holidays to all.
Some artists covered here are Warner Music artists. Uproxx is an independent subsidiary of Warner Music Group.