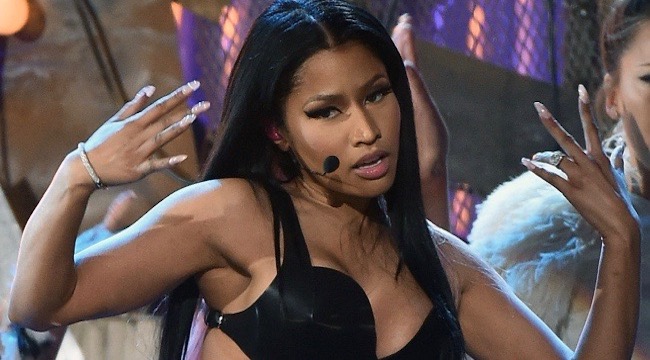 Next month, on June 26, the NBA is holding its first-ever, televised awards show on TNT. We already know that the Toronto Raptors ambassador Drake has been tapped to host the event, but the organizers appear keen to make this a Young Money extravaganza and announced today that Nicki Minaj will perform as well.
It's unknown for now what song Nicki will bust out during her performance, but a good guess might be her Remy Ma diss "No Frauds" that came with a Drake feature and a shoutout to LeBron James. "They say numbers don't matter but when they discussin' the kings / They turn around and say Lebron ain't got six rings," she rapped in that song. Let's just hope Draymond Green isn't around to hear it if she does.
"Is Nicki Minaj gonna mention 'Bron in every song?" the Golden State Warrior asked recently on his Dray Dray podcast. "Every song she's released since June 2016, there's something about LeBron in it. I mean, damn — like, LeBron is great, but Jesus Christ, at some point it just becomes… too repetitive. Jesus Christ, you can't mention 'Bron in every song you do."
The NBA Awards show is going down at Basketball City at Pier 36 in New York City. It will be will be the NBA's opportunity to honor all of the league's top performers on one night for the first time.