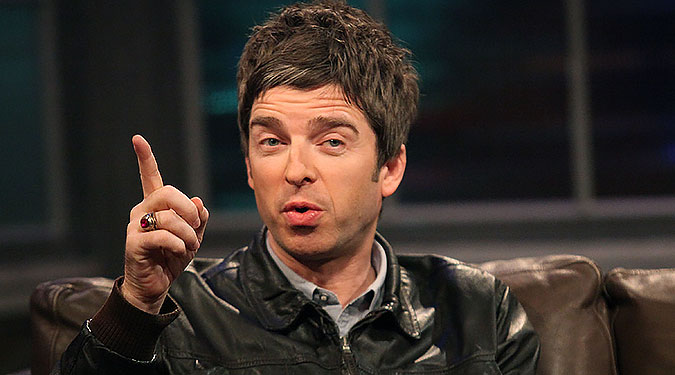 Noel Gallagher is never short on opinions, nor is he one to shy away from sharing those opinions. The former Oasis guitarist and current frontman of Noel Gallagher's High Flying Birds will gladly share his views on the current state of music, some of the most popular bands and acts, and even the current state of London's tube system (hint: he's not a fan.)
In a recent interview with Rolling Stone as he preps for a U.S. tour, Gallagher reminded us of his penchant for delivering highly quotable sound bites. We have already delved into his thoughts on Tidal, but that wasn't all he's touched on:
On Same-Sex Marriage:
"What do these old men in the courtroom think is going to happen? Do they think that depravity is just going to be f*ckin' rained down upon the world because two people from the same sex can recognize each other in a marriage partnership?"
And most importantly, on advice for Zayn Malik (i.e. the Dude Who Left One Direction):
"Get a good accountant because life is very f*ckin' long."
These delightful nuggets of Gallagherian wisdom got us thinking back to his other great gems. Here are some of our favorites.
Quotes About Other Musicians
1. On Brian Wilson…
"Who would want to be Brian Wilson, sitting in a studio in a nappy, eating a f*cking carrot with your little fat feet in a sandpit, not going on tour? F*ck that." –Rolling Stone, February 2015
2. On One Direction…
"F*cking idiots…They're all winning. No one's losing! The only people who are losing are idiots like me at 9:30 in the morning when you're trying to get the kids out the door for school, and they're f*cking murdering one of Blondie's songs." –GQ (U.K.), October 2013
3. On Ed Sheeran headlining Wembley Stadium…
"I don't think I can live in a world where that's even possible. When you hear that kind of polished pop and then there's a ginger guy with a f*cking guitar, it seems subversive, but it's f*cking not." –NME, January 2015
4. On Arctic Monkeys…
"I would rather drink petrol straight from the nozzle at a garage than listen to an interview with Alex Turner from the Arctic Monkeys. Wouldn't you? Alternative thinking is on its way out. They just don't make for great copy." –London Evening Standard, February 2015
5. On Kanye West…
"Somebody needs to buy that dumbass a dictionary so he can look up the word "artistry"…. Get him a dictionary from me, I'll f*ckin' sign it and give it to him so he can look it up." –Rolling Stone, February 2015
6. On Beyonce…
"[If the word "artistry"] applies to Beyoncé then f*ck me." –National Post, February 2015
7. On Radiohead…
"Making records should be fun. I remember seeing Radiohead on the cover of a magazine in the U.K. when In Rainbows came out, and it said, 'Radiohead: The Pain.' And I thought, 'Won't you f*cking give it a rest, you bunch of moaning children?' The pain? Of making an album? I don't buy it. If you're not having a laugh, then don't do it." –Spin, October 2008
8a. On Arcade Fire…
"I haven't heard it. Anybody that comes back with a double album, to me, needs to pry themselves out of their own assh*le. This is not the '70s, OK? Go and ask Billy Corgan about a double album. Who has the f*cking time, in 2013, to sit through 45 minutes of a single album? How arrogant are these people to think that you've got an hour and a half to listen to a f*cking record?" –Rolling Stone, December 2013
8b. And on Arcade Fire's dress code at their shows…
"Well, what's the point of that? Do you know what the point of that is? That is to take away from the sh*t disco that's coming out of the speakers, because everybody's dressed as one of the Three Musketeers on acid. 'What was the gig like?' 'I don't know, everyone was dressed as a teddy bear in the '70s.' 'Yeah, but what was the gig like?' 'Ah, f*ck knows, man, I have no idea. I was dressed as a flying saucer.' 'Yeah, but what was the gig like?' 'F*ck knows. I don't know. Seen Cheech and Chong there, though.' Not for me." –Rolling Stone, December 2013
9. On Jack White…
"Jack White has just done a song for Coca-Cola. End of. He ceases to be in the club. And he looks like Zorro on doughnuts. He's supposed to be the poster boy for the alternative way of thinking…. I'm not having that, that's f*cking wrong. Particularly Coca-Cola, it's like doing a f*cking gig for McDonald's." –NME, December 2005
10. On Alt-J…
"Do you know that track by Alt-J, 'Left Hand Free'? That is a great track. But Alt-J can f*ck right off as far as I'm concerned. It's a great tune, and I paid 79 pence for it, but I am in no way a fan of Alt-J…. One of them's got a mustache, and that's unacceptable." –Rolling Stone, February 2015
Bonus: On Oasis…
"I spent 20 years in a band making records by committee. I'm f*cked if I'm going to do that now. I think Oasis was at its best when I was solely in charge, anyway." –Rolling Stone, February 2015
Quotes About Being Cool
1. On Middle-Aged Americans…
"Culture has stagnated because of conservative middle-aged Americans thinking, 'F*cking hey, wouldn't it be cool if we could just f*cking do this.' And it's like, no it wouldn't be cool. No." –Square Mile, March 2015
2. On What Is Cool…
"Cool is not standing in a corner with sunglasses, smoking a cigarette, drinking champagne and quoting Jack Kerouac. Cool is not giving a f*ck about what you say or what you wear, cool is not being cool." –The Irish Post, March 2015
3. On Success…
"You don't have to be great to be successful. Look at Phil Collins." –Guardian compendium
But for all of Noel Gallagher's brilliant quotes, the best Gallagher-related moment in history belongs to Liam.
(Via Rolling Stone)