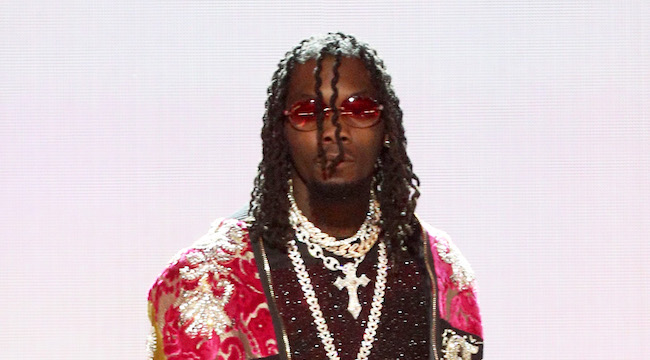 Atlanta rapper Offset of Migos, who was recently hospitalized after wrecking his car, was arrested today after police say they found a gun in his SUV, according to a report from TMZ. The rapper was driving just outside of Atlanta when officers pulled him over, citing his tinted windows. While no reason has been given why they felt the need to search the vehicle, a witness told TMZ that the officers discovered a gun in the car, prompting them to arrest Offset, who is currently on probation.
Offset recently welcomed his daughter Kulture Cephus into the world with wife Cardi B, but it looks like he might not get to enjoy his time as a father for very long. In Georgia, convicted felons like Offset can get in serious trouble if caught with firearms; along with additional felony charges, penalties can include heavy fines and up to five years in prison.
Offset's legal issues stem from before his initial rise to prominence with Migos, as he had received felony convictions for burglary and theft. This isn't the first time the rapper was supposedly caught with guns; in 2015, police arrested the entire trio for possession of marijuana, possession of a firearm in a school safety zone, and possession of a firearm during the commission of a crime. Offset was released after eight months in custody, pleading guilty to inciting a riot in a penal facility for a fight he had while in jail and paying a $1,000 fine. He was placed on five years probation and legally barred from Bulloch, Effingham, Jenkins, and Screven counties.