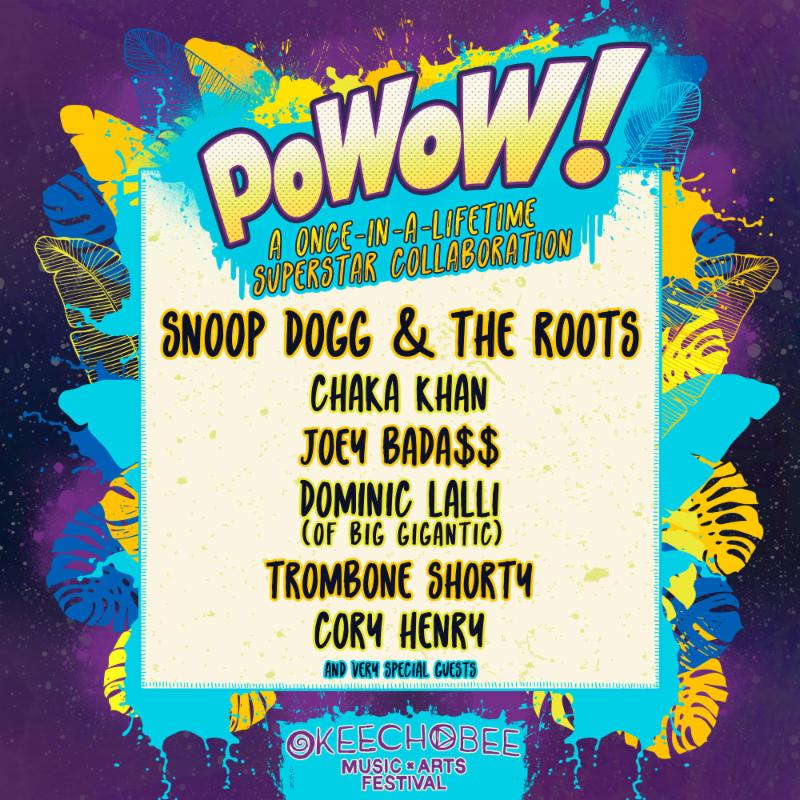 Since its first-ever installment in 2016, Florida music festival Okeechobee has featured an event called PoWoW, which brings together legendary artists on stage for a once-in-a-lifetime jam session. 2017 saw Solange, Michael McDonald, Gallant, Griz working together on a cover of McDonald and Kenny Loggins hit "What A Fool Believe," while the 2016 PoWoW featured Miguel and Win Butler of Arcade Fire, John Oates, the Preservation Hall Jazz Band and Kamasi Washington performed their take on the late David Bowie's "Fame."
For the festival's third year, they have announced their biggest PoWoW to date, featuring a notable shift toward hip-hop, funk, and soul. Snoop Dogg will lead the festivities, and will be joined by the likes of The Roots, Chaka Khan, Joey Bada$$, Big Gigantic's saxophonist Dominic Lalli, New Orleans multi-instrumentalist Trombone Shorty, jazz great Cory Henry, and many more special guests to be announced. The lineup brings together a diverse range of musical backgrounds, which will inevitably make for a diverse and intriguing show.
Okeechobee Festival takes place 3/1-3/4 at Sunshine Grove in Okeechobee, Florida. The 2018 installment will include headline performances from Arcade Fire, Bassnectar, Halsey, and Travis Scott, with many many more on the bill. Tickets are on sale now on the festival's website.