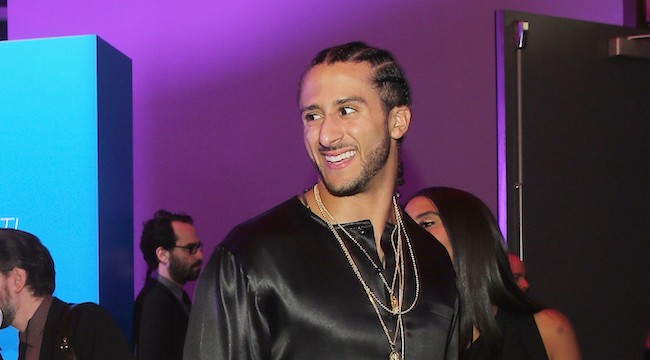 Music and business mogul Sean Combs, aka P. Diddy, aka Brother Love, met with athlete-activist Colin Kaepernick recently and came away inspired. The multihyphenate Combs posted a photo of the two having a sit-down meeting to his Twitter Thanksgiving morning along with a caption highlighting Kaepernick's recent activism and role modeling.
"Thankful for this brother right here," Combs wrote. "Met with @Kaepernick7 the other day. I'm inspired by what he's doing for our people. Times like this we need to be united. He's out here changing the narrative representing this #BlackExcellence."
Combs is only the latest hip-hop figurehead to co-sign Kaepernick's continued struggle against the powers-that-be in the NFL and his community building charitable works. Jay-Z sported a customized Kaepernick jersey during a recent late-night performance. J. Cole also performed in Kaep's jersey and repeatedly shouted him out on tour and in a recent GQ story naming him the "Citizen Of The Year," while Kaep has donated to J. Cole's Dreamville Foundation.
Meanwhile, Cardi B gave the blackballed quarterback a supportive plug during the MTV Video Music Awards, and Kendrick Lamar expressed his admiration of Kaep's ongoing sacrifice in standing up for oppressed people.
Kaepernick himself has filed a grievance against the NFL's ownership, claiming that they are colluding to keep him out of the league, despite recent season numbers comparable to other NFL quarterbacks who have not also protested during the National Anthem. While it might not get him his job back, it may just transform the future of televised athletic competition, giving a voice to a group that has been advised for a long time to simply "shut up and play."