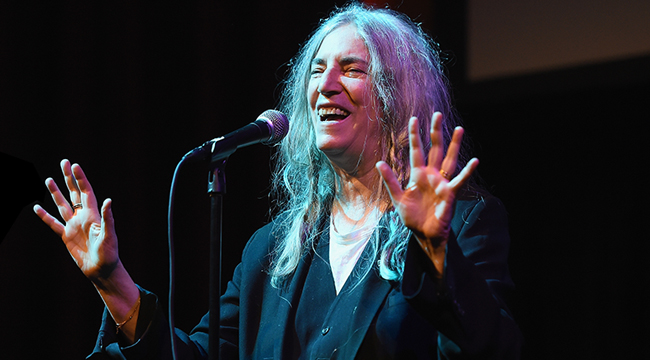 Let me tell you about one of the most incredible live shows I've ever gotten to personally experience. It was December 30, 2016 at the gilded Riviera Theatre in Chicago. Patti Smith was the evening's headlining attraction, but this was by no means an ordinary concert. In addition to performing one of the greatest albums of all time in its entirety, Horses, it also happened to be Patti's 70th birthday. The mood in the room was light, overflowing with goodwill as Patti walked out onto the stage and ran through the music that introduced her to the world back in 1975 with a gusto and enthusiasm that was frankly shocking. Honestly, you don't know how viscerally exciting rock and roll can be until you've witnessed "Free Money" and "Gloria" in all their twitchy, bombastic glory live.
Just after the main set, and after she recounted the harrowing evening of her birth in the dead of night, right here in Chicago — "I was nearly born in a taxi cab on Lake Shore Drive. The Great Snowstorm of 1946," she told us from the stage — the room burst with confetti, almost approximating the snowblind conditions of that seminal evening 70 years hence. Smith herself was unprepared for the deluge of shredded paper. "My tour manager Andrew Burns… didn't know how much to get and he got twice as much as needed, and so we had this unbelievable confetti finale, which was a total shock to me," she told me when we spoke recently by phone. "I couldn't stop laughing! It was almost impossible to go back to performing. I was just like an 11-year-old, a 10-year-old, a 5-year-old. I was so excited!"
R.E.M. frontman Michael Stipe soon arrived with a flaming cake and we all sang "Happy Birthday" to one of the great poets of our time. Then she launched straight into "People Have The Power" before strapping on a guitar and ripping the roof off the joint with an atomic cover of The Who's "My Generation" in the encore. It's was as uplifting and emotionally charged a moment as I can recall taking in during a live performance.
That's Patti Smith, though. One of the great performers and artistic visionaries of her generation. For those who weren't at the gig in Chicago (my sympathies) or didn't make it to any of the other jobs (her word for concerts) on that tour, Smith has the next best thing. Later this month on April 23, she will unveil a brand new concert documentary called Horses: Patti Smith And Her Band at the Tribeca Film Festival that captured one of the last performances of that run at the Wiltern in Los Angeles. "The Wiltern show has a similar spirit," she promised me, except, "no confetti or birthday cake."
Patti never intended on making a concert documentary, and the film's origin story is pretty simple. "I just decided it was our last two jobs of the Horses tour and we were all very united and I just decided to have my friend Steven Sebring film it with a couple of his friends," she recalled. "Just by chance my great friend Jimmy Iovine was at the concert in Los Angeles and he really loved the concert and said he wished we had a movie of that. I said, 'Well, we did film it, but we just did it to archive it.' And then he got together at Apple and made it possible for us to complete the film and do the intensive editing and mixing and all of the things to make it a strong, positive little documentary."
Unlike other shinier films perhaps, Patti is not the kind of artist who needs to rely on special effects or other visual hokum to get her point across. "We all gave it our all," she said. "We are who we are. We don't have any special lights. Our performances are not that much different, technically, than they were in the '70s. We're just a raw rock and roll band. This film definitely captures that."
Some might think that going back to your roots and playing material that's decades old night after night might would leave an artist unfulfilled, but Patti herself rather enjoyed the experience of delivering Horses in all its punk rock glory for nearly two years. "It's really a matter of the people," she explained. "If people really want a song and I feel like I can deliver it, I'll deliver it a thousand times with the same enthusiasm. I especially like doing the long piece, 'Land.' It's still one of my favorite things to do, because it's half improvisation, so no matter how many times we do it, it's always in some ways new. There's always some new adventure for Johnny and some new sonic adventure, some new language adventure. We're able to keep it fairly fresh."
For those who will make it out to the Tribeca Film Festival for the premiere, you'll also get treated to an extra show with her full band as well. "We're gonna do a strong set," she promised. "We're not just gonna do a song or two. We're gonna do a substantial amount of songs, because the Beacon is a really great place."
As for the rest of us, Patti is thankfully spending her days working on both her next album and her next book. "The album will probably come toward the end of the year, so I'm working on that. I'm always working on a new book. Always writing every day, and also, I'm putting a lot of effort into the climate change work of my daughter and also the Parkland students. I think their movement, which came from such tragedy, is one of the greatest things that's happening in our country right now."
She's also recently joined Instagram, which, for someone who's affinity for polaroids and the visual medium are long a matter of public record, seems like a match made in heaven. "My daughter convinced me to join it," she said. "It just gives me a chance to say hello. Post pictures, not just personal ones, but different birthday and to celebrate events. Today is the renaissance artist Raphael's birthday so I did a post for Raphael." Adding, "I'm actually really looking forward to going on the road, because then I can really, every day, share a bit of my own adventure and travels."
As for the immediate project at hand, however, you can hear the pride in her voice as she talks about it, and her hope that others will enjoy it as much as she had creating it. "It's a real guerrilla film," she said. "Steven did such a good job and he shot [the 2008 Patti Smith documentary] Dream Of Life in pretty much the same ragtag way, because we didn't really have any funding for it, I just wanted to do it and I think this night is gonna be really, really fun."