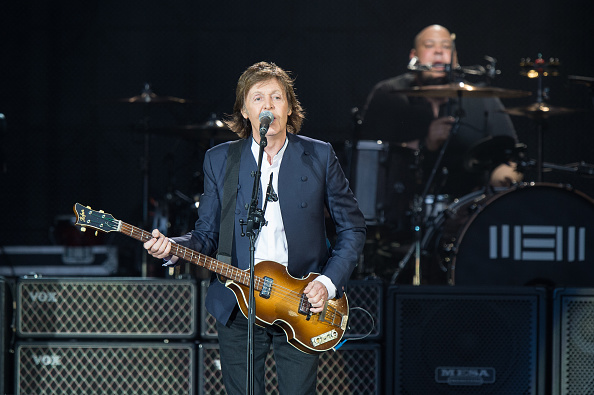 Paul McCartney turns 73 today. He was a Beatle for 10 of those years, and an artist recording in non-Beatles projects for 45. While all four Beatles have done great solo work (yes, even Ringo), McCartney's work has been particularly impressive. Nineteen of his 24 solo/Wings studio albums have gone at least gold, with nine of those also going platinum. He's also been at least partially responsible for 23 top-10 singles since The Beatles disbanded. Both of those are just numbers. Paul McCartney has had the best post-Beatles career of any of the Fab Four, and here's why.
He's Had Incredible Longevity
Paul McCartney has somehow managed to make intriguing music long after most thought he would. Consider that, in the past decade alone, he's given us Chaos and Creation in the Backyard, Memory Almost Full, Electric Arguments, and, most recently, New, all of which are more than worth your time. There are extenuating circumstances here, obviously, as John and George died so tragically young. But even when they were alive, their solo careers weren't exactly prolific. The last album Harrison released in his lifetime was 1987's Cloud Nine, which came out 14 years before his death (2002's Brainwashed was released posthumously). As for Lennon, he went five years between Rock 'N Roll and Double Fantasy, his collaboration with Yoko Ono. Basically, the last collection of new, original songs that were exclusively by him was 1974's Walls and Bridges, six years before he was killed.
The Singular Achievements Of McCartney And McCartney II
In 1970, just as The Beatles were splitting up, McCartney released his solo debut, McCartney. It was a solo album in the truest sense of the word; he played every instrument on the record. McCartney is a great record just on the strength of songs like "Maybe I'm Amazed," and the underrated "Junk," but the fact that he recorded every instrument himself is a monumental achievement; with The Beatles rapidly imploding, McCartney proved he could record a full-band record without an actual band. He followed it up with McCartney II 10 years later, which was not as highly praised as its predecessor, but did give us the classic single "Coming Up," as well as the love-it-or-hate-it "Temporary Secretary." McCartney's ability to record material without anyone else in the studio is an incredible reflection of his talent as a musician.
His Diverse Discography And Willingness To Experiment
Over his four-and-a-half decades of solo work, McCartney's shown that he's willing to try just about any genre of music. From the full-band stadium rock of Wings' heyday, to his electro-inspired work with his side project The Fireman, to the prog-rock influenced Back to the Egg, to the '50s rock 'n roll of Run Devil Run, to the symphonic influences of Working Classical, there's no genre McCartney isn't willing to try. Even if not all of these excursions were his best work, his willingness to give them a shot is a testament to his endless ambition.
George Peaked With All Things Must Pass
If George Harrison had continued to record music on par with 1970's stunning All Things Must Pass, he'd certainly be rivaling Macca for the title of Best Beatles Solo Career, but Harrison's work would never reach such heights again. Granted, Living in the Material World was a somewhat underrated followup, and all of his albums have at least a few worthy songs, but he would never touch such grand ambitions again, instead making more subdued records that reflected his religious beliefs. There could have an epic McCartney-Harrison rivalry, but after one masterpiece, Harrison went too low-key to challenge Macca.
In Defense Of Silly Love Songs
McCartney biggest rival was obviously John Lennon, his former writing partner. Lennon attacked McCartney on "How Do You Sleep," and on "Silly Love Songs," to which McCartney defended himself against Lennon's accusations that his material was trite compared to Lennon's vital, angry protest music. Lennon wrote some great protest songs, but McCartney's ability to craft brilliant pop songs is stunning, even if the material lacked the political relevance of what Lennon was doing. Gentle songs about happy married life like "Heart of the Country," and odes to a beloved dog like "Jet" surely have as much of a place in the pop music lexicon as "Imagine" and "Gimme Some Truth."