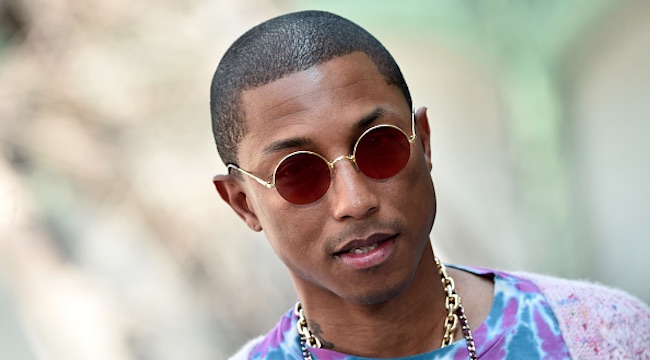 Pharrell gave fans a sneak preview of his upcoming collaborative collection with Chanel.
The musician shared a teaser of a commercial highlighting his Chanel collection to his Instagram on Friday. The short video showed lounging models in a mansion watching old clips of founder Coco Chanel, and featured the "Happy" singer sporting a shirt from his collection surrounded by greenery.
Pharrell posted a sentimental caption to accompany the teaser, "Hard to believe this all started with writing it on my shoes in 2010."

Pharrell has posted other previews of the collaboration to his Instagram. Back in February, the singer posted a photo of himself wearing glasses and a a shirt which read "Chanel Pharrell" from the upcoming collection, which is expected to drop soon according to Complex.
Pharrell has worked with Chanel since 2014, and announced his upcoming collection last year during a Chanel showcase in Bangkok, Thailand. The singer spoke to GQ France about his experience creating the collection and working with the late Karl Lagerfeld, the label's creative director of more than 30 years. Shortly before Lagerfeld's death, Pharrell said that it had "been amazing" to work with the designer. Pharrell also gave some detail into his creative relationship with Lagerfeld.
"Some things were existing pieces that he just allowed me to bring more color to, and other things were things that I just felt like were missing. Like as a man, I've always wanted a lot of belts. But like I said, I got the joy out of wearing the girls' belts, not the ones that were super feminine, but they just made sense for my body. There's still a bunch of things that as a man, I would at least want unisex versions of. So the inspiration for this was mainly my wish list, things that I feel like I've always wanted."
"I'm a creature of habit, and I wear seemingly the same sh*t," said Pharrell about his style inspiration, "Until I'm inspired by something else and then I completely get rid of everything else."