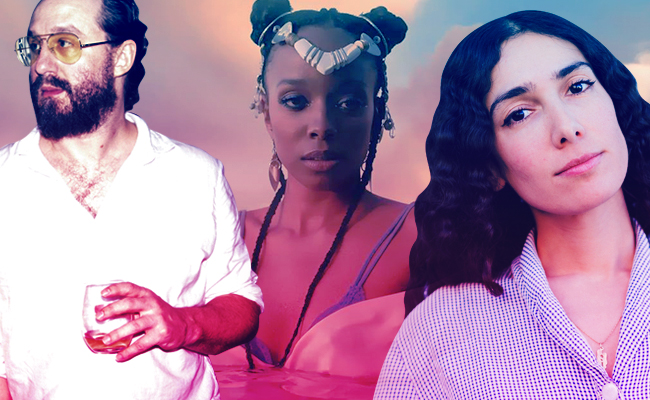 Tucked away in a southern suburb of Portland, Oregon — that is quite literally called Happy Valley — and heading into its twentieth (!) year, Pickathon is quietly becoming one of the most anticipated folk-oriented festivals of the year. Though the event began as a fundraiser for Portland radio station KBOO back in 1999, it's quickly grown into one of the most beloved and diverse festivals on the west coast.
Because it's more rural than other regions, the Pacific Northwest sometimes misses out on high-profile bookings, and though the event started off as local bands playing to crowds that barely cracked 200, the last several years have boasted big fish like Jeff Tweedy of Wilco, Future Islands and their biggest get to date, Feist in 2013.
Held at Pendarvis Farm since 2006, this year's iteration is a treasure trove of folk, country, R&B and experimental music. Big psych-folk names like Phosphorescent and Broken Social Scene are at the top of the bill, with country breakouts like Colter Wall, rising R&B star Jamila Woods, and widely-lauded new folk songwriter Bedouine rounding out the undercard.
Zale Schoenborn, who founded the event, told Willamette Weekly a couple years ago that the fest has now grown to his ideal size. "Everything gets easier where we're at now," he said. "It's the golden age. It took forever to get here. Let's try to keep it in that sweet spot." In keeping with Schoenborn's own ethos, here's our selection of artists that fix this year's Pickathon firmly in the sweet spot.
Phosphorescent
Set Times: Friday, 8:50-9:50 PM, Saturday, 9:20-10:20 PM
One of the biggest names on the lineup in his own right, Matthew Houck pricked up even more interest around his headlining slot this weekend by dropping a new single this week. "New Birth In New England" evokes Paul Simon with its playful, story-telling vibe, and promises that the psych-folk outfit's next album could be a bit of a departure for the band. Attendees this weekend have a good shot of hearing something new during his multitple sets.
Bedouine
Set Times: Saturday, 1:00-2:00 PM, Sunday, 11:40-12:35 AM
Last year this stunning folk ingenue flew onto the American scene with her quiet, elegant self-titled debut. Still picking up steam as a national force, 2018 is sure to hold even more accolades for Azniv Korkejian, who is easily one of the best new artists in the genre this decade. Between her wise, soaring alto and fingerpicked classic folk melodies, Korkejian still manages to make the genre feel new in an era where many practitioners come off as derivative she is spectacularly original.
Alela Diane
Set Times: Friday, 10:15-11:10 PM
After releasing one of the best albums of her career earlier this year, with Cusp — which we premiered the stream for — Alela Diane is living proof that female artists who incorporate their family into their art are the way of the future. Balancing her experiences with motherhood and her impressive songwriting abilities, Diane weaves the best of both worlds into piano and guitar ballads and bangers that always bear the fingerprints of her unforgettable writing voice. Her flawless vocals don't hurt a thing, either.
Colter Wall
Set Times: Friday, 4:20-5:20 PM, 11:40-12:40 AM
This gravelly-voiced throwback country singer is a standout in the current country world, which is rife with country pop that many fans don't enjoy the way they do a good, solid traditionalist. Colter Wall is all that and more, getting on the map with his 2017 self-titled and songs like "Thirteen Silver Dollars," or "Codeine Dream" telling the often glossed-over tales of rural, small town hardships. With another new album on the horizon for his fall, Wall is a must-see at the fest this weekend — and the chance of hearing him debut new material is high.
Jamila Woods
Set Times: Friday, 11:40-12:35 AM, Sunday 10:00-11:10 PM
Jamila Woods is not a country or folk artist, but strands of those genre's fierce independence and wide palettes influence her dreamy R&B, exemplified on her 2017 breakout release HEAVN. Woods is perhaps the most indicative of the fest's emphasis on quality and feeling over specific sounds of music. One of the few R&B artists on the bill, Woods' expansive, glorious songwriting is right in line with some of the other passionate performers on this list, and is another example of an artist whose live perfomances are unparalleled. Make time to see her now, out in the woods, before you're seeing her name in lights at unattainable venues.
Circuit Des Yeux
Set Times: Friday, 3:10-4:10 PM, Saturday 1:00-2:00 PM
Going along with what I wrote above about sonice choices Pickathon makes, Circuit Des Yeux, the project of Haley Fohr, is far more experimental and noise influenced than country or folk, and yet her artistic ethos is right in line with the event. Last year's Reaching For Indigo furthered her work in looped, looming electronic music pared with Fohr's formidable, dark vocals. Watching her recreate these reaching, vulnerable songs live is another thing to put on your can't miss list.
Haley Heynderickx
Set Times:
Saturday, 2:40-3:40 PM, Sunday 6:00-7:00 PM
We're big fans of Haley Heynderickx here at Uproxx, and her debut album I Need To Start A Garden is one of 2018's best, hands down. Heynderickx's sweet and salty voice will pinprick your heart, with lyrics about the smallest minutiae and how those tiny elements can grow to envelope your entire universe.
Rising Appalchia
Set Times: Friday, 7:10-8:10 PM, Saturday, 10:15-11:10 PM
If you're looking for a heady dose of the most Pickathon-style artist possible, then sisters Leah and Chloe Smith and their band Rising Appalchia is for you. They mix soulful, folk-inflected harmonies with banjos, spoons, fiddles, congas, washboards, and all manner of traditional folk music elements to create the kind of sound that's right at home in the backwoods, and will worm its way right into the dead center of your heart. This duo represents everything you'll get at Pickathon that you won't get anywhere else.