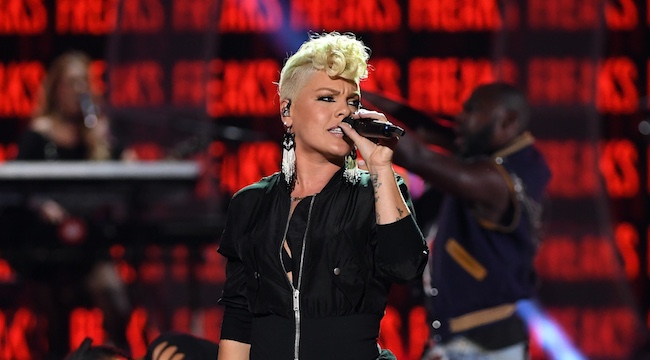 Justin Timberlake is performing at halftime of this year's Super Bowl, as we're all well aware by now, and that gig is of course a highly esteemed and time-honored tradition. It's also, however, not the only big-time, football-related musical performance of the day, since the singing of our country's National Anthem at the biggest NFL game of the year is also a pretty major deal. Last year, it was Luke Bryan who had the honor of belting out the "Star-Spangled Banner," and this year, it's been announced that it's Pink's turn.
The NFL and NBC have revealed that Pink will perform the song during pregame festivities at U.S. Bank Stadium in Minneapolis, Minnesota on game day, February 4th. They also note that alongside Pink will be actor and director Alexandria Wailes, who will perform both the National Anthem and "America The Beautiful" in American Sign Language, on behalf of the National Association Of The Deaf.
A couple days ago, Pink may have foreshadowed this announcement in a tweet about her excitement for 2018: "I'm really looking forward to 2018. I'm really excited about the Grammys. Tour. Some other stuff that's a secret still and I can't wait until it's not a secret. I'm also excited for Trump to lose his Twitter password and also I'm excited that I have dope hair."
Super Bowl LII will air on February 4th on NBC.