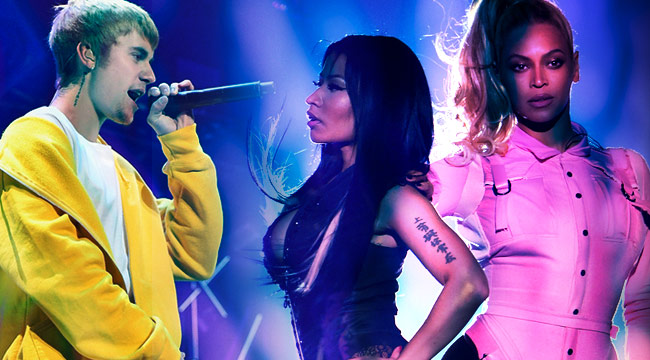 Even if poptimism has opened the wonderful world of pop music to many, many more fans than it might've previously had, there are plenty of people who completely disregarded the of cool all along out of devotion to the bubblegum sweet, sugary genre. This is the gift guide tailored specifically for you, my friends.
A more general guideline for music lovers in general can be found here, and we've already got things covered those who are loyal to hip-hop, or still can't shake their affinity for rock and roll. But this is a celebration of girl groups, pop stars, and radio earworms. Read on for all the perfect gifts for these pop lovers.
Justin Bieber tickets for 2017


This one is kind of a no-brainer. If you love pop music, you must undoubtedly love the prince of pop, the Biebs himself, who is well on his way to earning a Grammy for album of the year for his massive come-back and decidedly adult album Purpose. He is nominated for quite a few Grammys this year, and his tour has made headlines all throughout the year. Bieber announced that his tour would continue earlier this month, and the kick off date at the Rose Bowl is currently on sale here.
Lady Gaga's baby pink "dad" hat
Lady Gaga's comeback album Joanne was surprisingly great, fresh new sound from the singer — but diehard fans never gave up in Mother Monster, even during the Artpop years. For the little monster in your life, nothing is cuter than this baby pink baseball hat that reps Gaga. Hats are decidedly in at the moment, and this one is versatile enough to take them from a New York streetwear look to a chilled out beach party — just like Gaga's own journey. Plus, this is the kind of hat that will look extremely good when it's a vintage artifact, so really, you're investing in the future by copping one. Get one here.

Jennifer Lopez: Dance Again concert film
Jennifer Lopez's Dance Again concert film was officially released this week, and makes the perfect gift for anyone obsessed with the trajectory of this Latina star. The film combines performance footage with documentary footage, personal, candid moments and interviews with some of Lopez's closest friends. During the period the film covers, Lopez was on world tour with her two young children in tow — a difficult balancing act for anyone at all. Of course, she pulls it off with impeccable grace, but that doesn't make the drama any less riveting. Get it here.
A film about famous bodyguards, including Justin Bieber's bodyguard: Bodyguards: Secret Lives From the Watchtower
Some of the unsung heroes in the pop music community are the men who keep these supernova celebrities safe. In Bodyguards: Secret Lives From the Watchtower, these behind-the-scenes heroes speak up and share their fascinating experiences and relationships with the world's most famous entertainers. These men are essentially risking their life for someone else as a career, and the resulting film about their lifestyle is incredibly riveting. Watch a trailer above, and get the film here.
Gwen Stefani pop art poster
Gwen came back in a big way this year, not solely because of her high-profile romance with her newly single fellow The Voice judge Blake Shelton, but also because she released what is only her third solo album, This Is What the Truth Feels Like. Whatever your thoughts on that record, No Doubt and Stefani fans from now to all the way back will for this sleek fan-made pop art poster. Get one here.

'Leave Britney Alone' bumper sticker or key chain
Everyone feels a bit protective of Britney, because we all watched her go through a massive fame meltdown, and recover like a phoenix from the ashes. This sticker will let the Brit superfan alert others to their status — it's also available in several shapes, font styles, and a keychain format, because it's a major key. See what I did there?
Get it here.
A coffee cup with Nicki Minaj's ass on it
Let's be clear about one thing — most of Nicki Minaj's fans are girls who are thrilled to see a woman owning and using her own sexualization however the f*ck she wants to. Nicki's naked ass in "Anaconda" became a symbol for female liberation, particularly via the subversive flip of the "Baby Got Back" sample, and Nicki's own video-stealing banana scene at the end of the video. Which is to say, that drinking your morning coffee out of a cup with Nicki's ass on it is just a reminder to own your own goddamn power. Your favorite Nicki fan deserves that, right? Get it here.
While we're in Nicki mode, don't forget you can get a head-to-toe Minaj approved outfit at very affordable price via her K-Mart collection
This one is a no-brainer for Nicki fans. The clothes are classy, chic, and come at a price point that normal people can afford. They're available online or in K-Mart stores. Buying them supports one of the most brilliant, creative and talent black female moguls in America. Oh, and they all look like toned down versions of something Nicki herself would wear. Pretty on fleek, no matter who you are. Shop here.
Beyonce's Boy Bye Lemonade Bodysuit
In a year completely dominated by Queen Bey, what better way to pay homage than by adopting her most misandrist lyric for your own personal fashion purposes? Whether you're happily coupled up and just need to give your guy a kiss-off every once in a while, or you're actively removing human garbage from your love life, this bodysuit is the perfect affirming piece of clothing. Plus, it's just cool — that's the Beyonce factor. Shop here.

Rock a wristband supporting Kesha's fight against the power
Kesha has had an extremely tough year as she tries to break free from her record contract with her former mentor and producer Dr. Luke, who she has repeatedly and vividly alleged abused her for years while she was emerging. Now, she wants to make music on her own terms and without the oversight from a powerful, toxic man. But the courts just won't let her. Now, she's been touring on a small scale anyway, and attempting to live life as an artist on her own terms. Fans have responded in kind, supporting her through her legal battles by protesting etc. But another tiny way to show support is to cop a metal-font Kesha bracelet and wear it with pride. If Kesha can't get free, at least she can know she's supported. Get one here.
A personal karaoke machine
So, how much money do you spend per year cavorting around a dark karaoke room in the middle of downtown, drinking cheap wine and paying through the nose just to belt out pop hits with your friends? What if you could that at home, in your own cozy living room, with your own cheap wine and plenty of space to get weird? You can, if you'd only get your own karaoke machine, or grandfather one into your friend circle by gifting it to another karaoke aficionado. Best of all? This baby still arrives in time for Christmas, which means you can start using it right away. There are levels to these gifts. Shop here.
Drake boxer shorts
Yes, I'm aware that Drake is a "rapper" but at this point he is also one of the biggest pop stars in the world. And buying boxers is a very pop thing to do, but I already copped these for my favorite Drake-lover and you should too. Also, let's not pretend boxers are just for guys! I love to wear boxers to sleep in, they're ultra comfortable and the snug fit is a nice change sometimes. Loving Drake and destroying gender norms? What more could a girl (or guy) want? You know Drizzy would approve. Shop here.
Zayn Malik 'Pillowtalk' pillow cases
I will be the first to admit that I clowned this song when it first came out. I was not down for Zayn's solo career, I thought I was too cool for a One Direction spinoff, and I didn't connect to it at all. Fast forward to a couple months after it came out, when it came up on shuffle on my headphones while I was walking around the city late at night. It stopped me in my tracks! I was a convert. Some songs you really just have to be in the right mood for them. Well, there is no better way to set the mood for this song than with, uh, actual pillow cases (which you can buy here). So people made some! For any One Direction or Zayn diehard fans in your life, this is sure to at least get you a laugh. And laughing is the greatest gift of all. Besides, pillow cases are easy to change, so you can bust these ones out for special occasions. While we're here, let's listen again shall we?