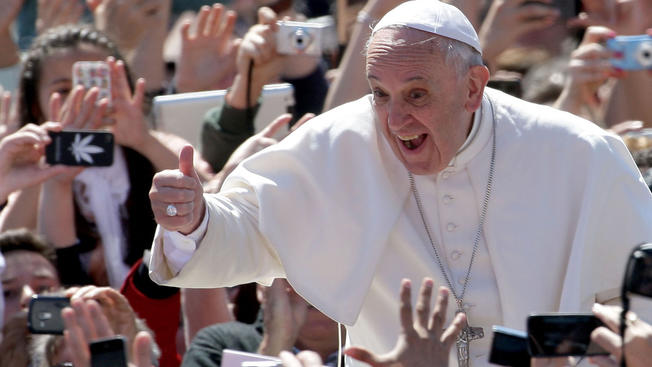 Pope Francis is already casually referred to as the cool pope because of some of his more progressive views, like his environmentalism, selling off his fancy gifts to give money to the poor, and, of course, loving pizza like it's the only food on Earth (gotta reach those millennials!). Nuns even tailgate for his arrival! But nothing could have prepared the turn-your-hat-around and sit-in-a-chair-backwards cool that the Pope would drop on us with the news that he's releasing a rock album. Yes.
For Real.
Premiering on Rolling Stone (can't believe I just typed that), Pope Francis debuted his first single called "Wake Up! Go! Go! Forward!," the title track from his forthcoming album Wake Up!. A sort of proggy jaunt, the pop rock track features a speech of the Pope's followed by a singer in Italian on backup vocals.
From Rolling Stone:
"Wake Up! Go! Go! Forward!" finds Pope Francis addressing a South Korean audience in English last year amid atmospheric synths, trumpeting horns and skyscraping electric guitars reminiscent of Godspeed You! Black Emperor.
Who woulda thunk that Pope Francis was so cool, he would be dropping records that sound like Canadian post-rock royalty? Either way, now we are only waiting for the inevitable… an A$AP Ferg "Hood Pope" remix featuring Pope Francis heavy on the mic.
Listen to Pope Francis' "Wake Up! Go! Go! Forward!" via Rolling Stone and check out the tracklist for Wake Up!, which drops November 27, below.
1. "Annuntio Vobis Gadium Mangum"
2. "Salve Regina"
3. "Laudato Sie…"
4. "Poe Que' Sufren Los Ninos"
5. "Non Lasciatevi Rubare La Speranza!"
6. "La Iglesia No Puede Ser Una Ong!"
7. "Wake Up! Go! Go! Forward!"
8. "La Fa Es Entera, No Se Licua!"
9. "Pace! Fratelli!"
10. "Per La Famiglia"
11. "Fazei O Que Ele Vos Disser"
(via Rolling Stone)