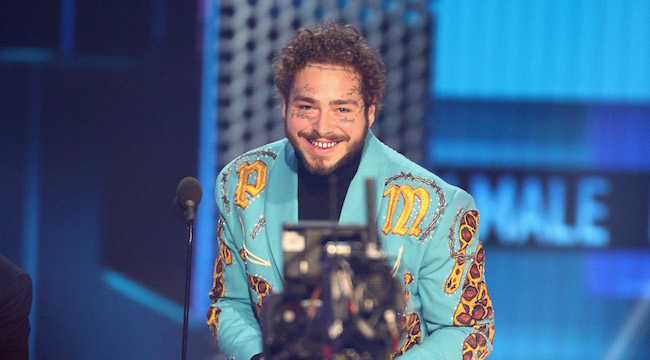 Food delivery app Postmates called Post Malone its number one customer this year, after the Beerbongs & Bentleys rapper spent more than $40,000 on food deliveries using the app in 2018.
In a new, uh, post on blog site Medium for its weekly series, "The Receipt," the company shared Post's favorite restaurants and menu items from 52 cities that he's hit while touring in promotion of his platinum-selling album and called him "Postmates Malone," which is so catchy, he should probably make it the title of a song on his next project.
Apparently, Post Malone's favorite places to order from include Pink Dot in Hollywood, Chik-Fil-A (naturally), Ralphs, Burger King, Popeyes Louisiana Kitchen, KFC, Petco (!?), Panda Express, GameStop, and CVS, in order from the top. He loves the popcorn shrimp from Popeyes especially, ordering a quarter pound at a time along with five chicken tenders and six biscuits. His favorite Ralphs order includes sleep aid melatonin, which really contradicts the "No Sleep" tattoos on his eyelids, and garlic bread.
He even has special order requests saved, asking Raising Cane's to "open boxes a little so it doesn't get soggy" when he orders chicken fingers. He's been known to give away copies of his unreleased songs on CD as a tip. They were probably a little more receptive than the folks in that record shop he visited recently trying to give away a car. Hopefully, he considers hiring a nutritionist though; for someone who's had so many brushes with injury lately, you'd think he'd want to maintain his health.