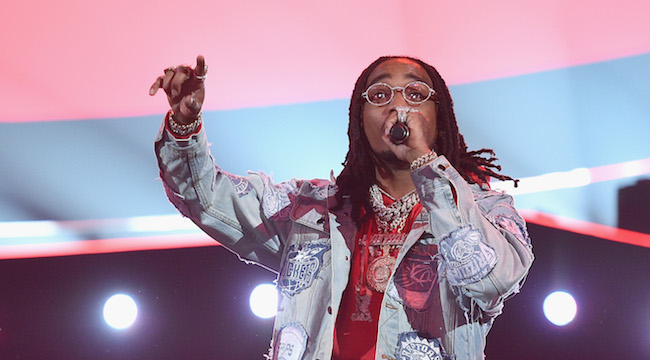 Rappers and athletes have always had a lot in common, but lately, it seems like the line between the two has blurred so much it's almost imperceptible. Many of today's hottest rappers, like Quavo and 2 Chainz, were former high school athletic stars. Some of the biggest athletes, like the NBA's Damian Lillard, are pretty respectable rappers in their own rights. The continuing crossover has led to not only great musical and athletic moments but also great opportunities for both rappers and athletes to give back.
Quavo did just that Sunday afternoon (April 1) with a celebrity flag football game, "Day On Da Nawf," which provided an opportunity for kids from Migos' beloved North Side Atlanta to take in a game featuring some of their favorite rappers and football players, including Quavo himself, Lil Yachty, Offset, 21 Savage, Lil Baby, Todd Gurley, and Von Miller on Team Huncho, and Julio Jones, Jacquees, YFN Lucci, Trouble, Martellus Bennett, and Ezekiel Elliott on Team Juilio.
Taking over his alma mater Berkmar High School's football field, Quavo's famous friends provided an afternoon of free football clinics for kids, an opportunity to meet and greet some superstars, and some quality entertainment for football fans of all ages, all while helping to raise funds for the school's football program. It wasn't a bad way to spend an Easter Sunday for the kids, and it was a great way for Quavo to celebrate his birthday with friends. Check out more highlights and photos below.
https://www.instagram.com/p/BhCsp-LFRuS/?taken-by=tsnymedia
https://www.instagram.com/p/BhCqZFrFeLb/?taken-by=tsnymedia
https://www.instagram.com/p/BhCr77LlG5N/?taken-by=tsnymedia