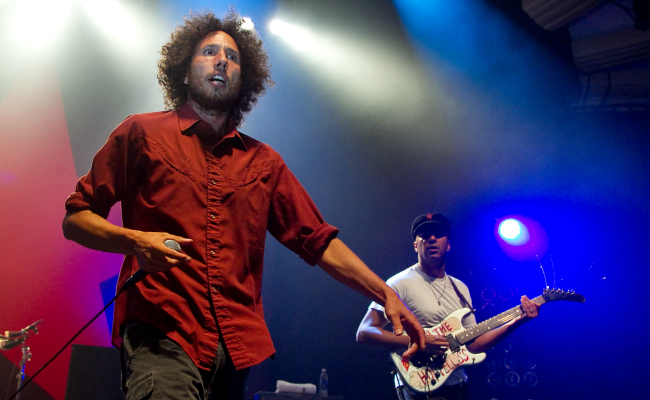 Are Rage Against the Machine plotting a comeback? We don't know for certain, but there's definitely some bread crumbs out there that would lead a person to think that yes, maybe they are.
Clue Number 1:
The band has a new website called Prophets of Rage, which, according to DIY, has had a countdown going, with an expiration date of June 1. However, I checked the site this morning and got this instead:
This makes sense, though. It's been five long years since Rage played together and a reunion would be one of the most highly anticipated ones to happen in recent memory. Hence, a website with a countdown on it alluding to a possible reunion is very likely to be bombarded with traffic to such extent that it had to shut down.
Clue Number 2:
Mysterious posters have been popping up around Los Angeles, the band's hometown.
The posters display the aforementioned website, and "Prophets of Rage" is a song by Public Enemy, buddies of Rage.
Clue Number 3:
Speaking of Public Enemy, the group's frontman has been randomly tweeting out live Rage videos on Twitter.
Of course, this could mean anything. Chuck may have fallen down a Rage Against the Machine YouTube sinkhole as any fan would be liable to do if the situation presented itself.
So, What Does It All Mean?
Well, it could mean that yes, Rage Against the Machine is getting back together. It could also mean that in addition to reuniting, they could be going on tour with Public Enemy, as some people are speculating. Yet it could also mean Chuck D is prone to YouTube deep dives like the rest of us. At this point, it's hard to say.
I guess we'll have to wait until June 1 to find out.
(Via Stereogum)