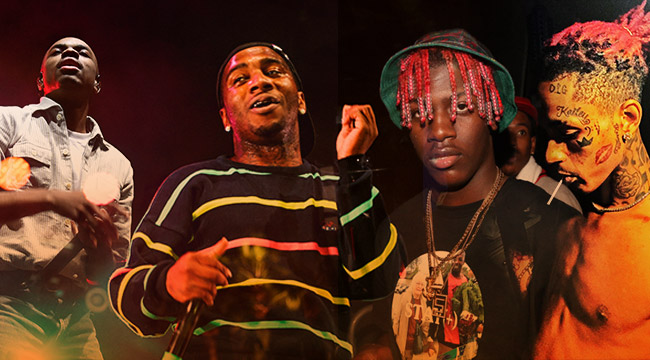 In a recent episode of FX's highly successful Atlanta series, rapper Paper Boi is exposed to his first instance of trolling. The culprit is an internet darling named Zan who does everything he can for likes: create memes, front like he's really hanging out with artists and imitates a life he wants to live. Zan's scenes came off well-done because they accurately depicted the art of internet trolling to a T. Hip-hop continues to experience these situations over and over but, instead of it being from fans, rappers subject themselves to low-level forms of trolling for attention.
This common trend is far from new as rappers have been trying to create controversy to sell records for years. However, the blueprint behind trolling should be attributed to Lil B. He truly kicked off this generation's fascination with trolling by succeeding in it first. His early days on Twitter were full of offensive and outrageous tweets, including his popular one pertaining to f**king Kanye West in the a** if he doesn't acknowledge Lil B. It has over 75K RTs and can still pop up from time to time on your timelines.
Essentially, before becoming a positive messenger, Lil B was heavy into making outrageous statements for attention. His whole career, especially the music, seemed hell-bent on that. He'd drop mixtape after mixtape, video after video, no matter what the quality was. It worked. Everybody from Kendrick Lamar to Danny Brown have praised his influence. Thus, Lil B inspired a huge chunk of new artists to run with this formula.
There's one question that always come back to me whenever I think about hip-hop artists who troll: what's the end goal?
Yeah, Lil B overcame criticism and proved his worth to the game. Young Thug, who once trolled Lil Wayne with Barter 6, evolved into full-fledged artist with a cult following. Those are just two examples of turning trolling into success via garnering attention and then harnessing it into something more. Thug had the music before he tried to troll. Even Thug is facing a doppelganger in the form of Kyng after he took his sound and Slime Season 3 title. With Kyng racking up hundreds of thousands of views, can he actually turn this into a career?
Recently, the most blatant form of trolling happened with a rapper named 22 Savage popping up. Since, it's been revealed as a comedic joke by comedian Mighty Mike. "I just felt like jacking him. 22 Savage. I'm really a savage out here. I'm really in the slums. I'm in the trenches," he later said. However, what if it wasn't for laughs? He garnered a lot of attention, including blog support, that could've been used to jumpstart his career. It would've been the worst offense, because he took someone's name as opposed to a title or song or image.
For the case of Lil Yachty, his trolling might anger hip-hop purists, but he's also a key shift in the generations. He's said things like how '90s rappers are "old and washed up" and refuse to accept change. There's the original statement that he can't name five songs from Tupac and Notorious B.I.G. Even a recent video of his group of friends say Drake is better than Tupac. To everybody who isn't 10-years-old, this is frightening news. Yachty is buzzing — and this is before trolling, but his music is clearly inspired by Lil B — and has found a way to turn it into a career. His tours sell out, his music on Spotify has well cracked 20 million plays on some songs and he continues to be in the headlines for his views.
What if the "King of Teens" is just the voice for a new crop of hip-hop fans who are rebelling, so to say, against the past? How many teenagers really know about N.W.A. or A Tribe Called Quest? How many care? There's always going to be some form of outrage. Lil Wayne at his prime still had people who believed he was trash. Some refuse to believe Kanye West is a genius. Yachty uses his personality as publicity, whether that acts as good or bad depends on who you talk to.
Personalities have become more important than ever in the digital era. We're no longer just buying into the idea of the music, but we latch on to artists who say things we relate to. Vince Staples is a great example. He's honest, and isn't afraid to share his opinion, no matter how controversial. It's like when 50 Cent was a designated commentator on all things hip-hop in various interviews. These weren't topics that involved him in any way, but because he was outspoken he got asked for the sake of soundbytes. Vince is similar in that he invokes entertainment and humor. He's had his bumps in the past, even portraying a different side of Yachty's argument about '90s hip-hop, calling it overrated.
Oftentimes, this approach for attention can be directly linked to the pressures of signing to a major label off one hot single. The artist made it now, but they don't have a plan. Trolling has become so common, yet many rappers who go viral can't figure out what's next. Slim Jesus became an overnight success and where has that gotten him? Maybe the real problem is not caring afterwards. Yeah, a rapper trolled and got the attention they wanted but there wasn't anything to keep people drawn in. There's an art to trolling and winning. Many artists only have one half of that learned.
With the way the internet is headed, musicians trolling will only going to get bigger. On one hand, it sucks because many talented artists get overshadowed by the nonsense. On the other, it'll hopefully breed some creativity in regards to getting attention. As we've seen in the past, you can troll and go on to live a successful career. Not all of it should be considered bad, but it's a rare 10% or less that actually falls into the good category. The goal is always how to get attention, but it's what you do next that counts the most in any musical career.