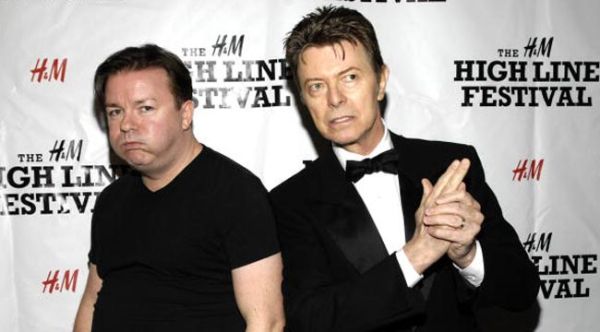 The world is still reeling from the loss of not only David Bowie, but Ziggy Stardust, The Thin White Duke, The Goblin King, Major Tom and most of all – David Jones. Something just feels wrong about a world without Bowie, but the pain is eased by steady outpour of stories from friends illustrating his awesomeness. One of the seemingly more unlikely friendships in Bowie's life was Ricky Gervais, who became friends with Bowie after the Rock God saw The Office and sent Gervais an email saying:
Imagine getting an email from David Bowie out of the blue, singing your praises and asking your for advice? Probably – "be in my next show." This led to Bowie having one of the most hilarious guest appearances in modern TV when he sang about Gervais' Andy Millman being a, "pathetic little fat man that sold his soul" on Extras.
After watching the Golden Globes, some may forget that Gervais has such a big heart, but this touching tribute will pull you back into the warm embrace of Ricky and his trademark chuckle:
"After the show I saw the tweets and was trying to find out if it were a hoax — and it wasn't. Our relationship was bizarre and surreal, and I felt so privileged to know him. I never forgot he was my hero, even when he became my friend. I somehow divorced the two concepts in my head. When I talked to people, I talked about this rock star who changed my whole outlook. He put my life in color. He made me believe: You can do anything; you're a working-class kid in Reading; creativity is freedom. Ability is a poor man's wealth. I loved everything he did. He never let me down, even at the end. I've never seen a more dignified ending.

I was looking at an email he sent me a few weeks ago. It was as funny and fresh and smart as any in the last 10 years I knew him. That's integrity. That's f—ing privacy. All this about being one of the most worshipped artists in the world — he never fell for it. I remember the first time I went to see him, I didn't know what to say. "You're here for Mr. Jones?" I smiled — of course I was. Right then, David Bowie didn't exist. His apartment was as amazing as you'd imagine. There was a 3D Picasso-esque sculpture in the middle — beautiful. He said, "My daughter likes to hit that with a hammer."
You can read more here (it's worth it.)
Ricky probably has enough David Bowie stories to fill a book, and I hope he writes them all down because I will purchase anything centered around the odd couple of Ricky Gervais and David Bowie. The shenanigans – they seem limitless.
(Via The Hollywood Reporter)
Now Watch: Ashes To Ashes, Dust To Stardust: Celebrities Remember David Bowie