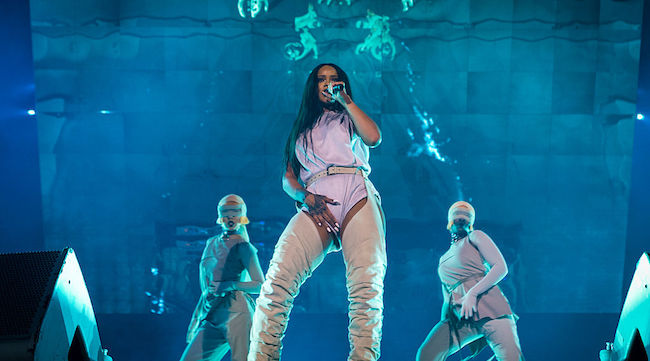 We may have to wait until next summer to watch French director Luc Besson's upcoming film Valerian and The City of A Thousand Planets, but the sci-fi and action flick legend offered some new insight in the film while at Comic Con in San Diego yesterday.
Joined by leading actors Dane DeHaan and Cara DeLevingne, the director presented a preview that also revealed Rihanna's role in the film, which had been kept under wraps: The singer will play the role of a dancing, sexy alien who works at an interstellar night club/brothel run by Ethan Hawke. We suspect she'll nail the role given her versatile talents and her affinity for science fiction. (If you missed it, you can watch her play an alien being in the music video for "Sledgehammer," off the new Star Trek Beyond soundtrack.)
Besson also engaged in a Q&A session with fans on Twitter, shared some of the pranks that went on set and praised the cast, including Rihanna, whom he called a "gifted" actress.
The film, which is based on the French comic series Valérian and Laureline, takes place in the 28th century. Delevingne and DeHaan act as a crime-fighting alien duo who seek to restore balance to the universe.
(h/t Billboard)