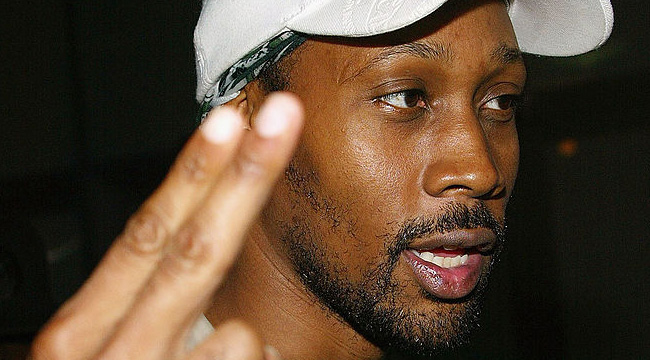 The Azealia Banks and Russell Crowe situation may never reach a full resolution, and with Banks and the most famous witness to the incident, RZA, releasing a movie together in a few weeks the story has seemingly been given a second life. Last October Banks accused Crowe of calling her the n-word, choking her and spitting at her at a party in his suite, all in front of RZA.
The stories have diverged from there, and RZA put the onus on Banks for "insulting half the room" and being "loud and obnoxious," but this week he retold the story on The Breakfast Club, which upset Banks enough that she said she wished he'd "drop dead" on social media.
Well, RZA isn't taking too kindly to Azealia's threats, and his publicist has released a statement which calls her words "unwarranted" and "unbecoming" and states that RZA's story has never changed and he's always acknowledged that Crowe did, indeed, spit at Banks.
"Contrary to recent reports, a year ago RZA interviewed with TMZ on October 20, 2016, and clearly stated that Russell did, in fact, spit at Banks," the statement says. "RZA never denied that. While there is no excuse for spitting at anyone, you would have to be in the room to witness the whole ordeal to see exactly why the night ended that way."
The statement then goes on to say that Azealia's "reputation precedes her," and no matter what "rumored conditions she may have" her actions are unnecessary. "As Ms. Banks reputation precedes her, RZA hasn't and does not want to further embarrass Banks and stands by not revealing all of the details at this time. In fact, after the incident, concerned about her welfare, RZA made sure she made it back to her hotel safely," the statement says. "Regardless of any rumored conditions she may have, I feel there is no excuse for this type of behavior, therefore I feel obligated to let the record show that RZA has tried his best to support Ms. Banks. Taking the high road is not an easy task when someone constantly slanders you, but he has."
So, while the words aren't from RZA's mouth directly, they are from somebody who represents him, and are especially pointed considering Azealia is the star of a movie RZA directed that will be released in December.