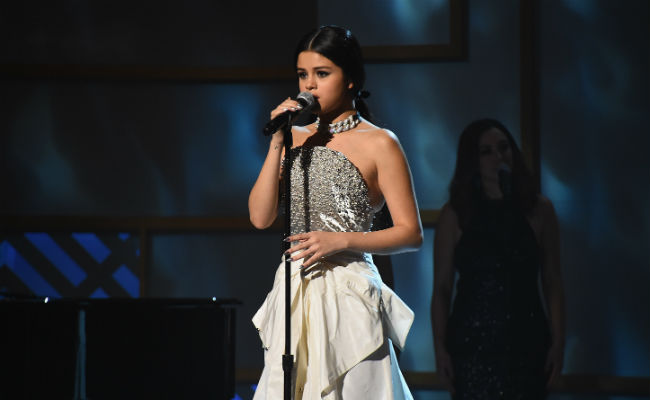 Selena Gomez is one of the many people mourning the loss of Christina Grimmie.
After news broke that The Voice singer had been shot and killed at her own concert, friends, fans and celebrities took to Twitter to express their shock and sadness at losing the bright young star. The Voice judges Adam Levine and Blake Shelton both shared their condolences to the Grimmie family soon after the singer had passed, but it's Gomez's emotional concert tribute that will really bring tears to your eyes.
On Saturday night at the Miami stop of her Revival World Tour, Gomez addressed the loss of one of her closest friends:
When she was 14, we met her and my parents and I signed her. One thing about Christina and her family is that she holds her faith so closely to her. And I think it's not about a religion and it's not about anything or good deeds. It's just that she had faith, and I don't really understand how this really happened, but I would like to dedicate this next song to her.
The singer went on to play an acoustic version of Hillsong Worship's "Transfiguration."
She later got choked up performing the song "Nobody," before mouthing the words "I'm sorry" to fans in the audience.
Gomez and Grimmie had been friends for years. The two once lived together, Grimmie often sang back-up for the "Good For You" songstress and even opened for her on tour. Gomez's step-father, Brian Teefey, who was Grimmie's manager, said the loss of the young singer has left the family devastated.
"Words cannot begin to describe the pain I am feeling," Teefey wrote. "I learned this business through the eyes of a father and Christina was like a second daughter to me. All I wanted to do was assist her in achieving her musical dreams while protecting her from the pitfalls associated with the business. I never could have imagined this horrific event being one of the pitfalls needing to be avoided."
Gomez reportedly cancelled her meet and greets before the show in Miami after sharing a throwback photo of the pair on Twitter earlier that day.
Grimmie was shot and killed while she was greeting fans following a concert in Orlando, Florida. According to police, the shooter, 27 year-old Kevin James Loibl of St. Petersburg, Florida, intentionally wanted to harm the 22 year-old singer.
A GoFundMe Page has been set up for the Grimmie family.
(via People)