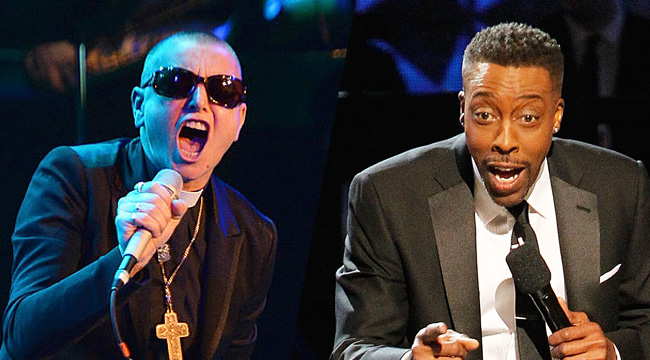 Sinead O'Connor can be a bit…candid. Arsenio Hall is suing her for $5 million after the Irish singer claimed he was responsible for Prince's death and drugged her at a party at Eddie Murphy's house. The woman who famously ripped up a photo of the pope on national television isn't one to back down and her response to Hall's lawsuit was characteristically opinionated.
O'Connor began the Facebook post by calling the former late night host "Arse-inio" (classic) before telling him in no uncertain terms what she thinks of his lawsuit. O'Connor said she was "amused" by Hall's actions and was looking forward to Arsenio trying to prove her wrong.
She also took credit for the DEA investigation into Prince's death before making her feelings ridiculously plain.
"I do not like drugs killing musicians. And I do not like Arsenio Hall," she said. "He can suck my dick. That is if he isn't too busy sucking someone else's dick."
The idea of Prince having a drug problem that may have led to his death becomes less far-fetched as new details emerge. He did have Percocet in his system at his time of death, and sources close to the events around his death said he had a planned meeting with an opioid addiction specialist. Claims of Arsenio Hall being "Eddie Murphy's b*tch" have yet to be substantiated.
(Via Pitchfork)