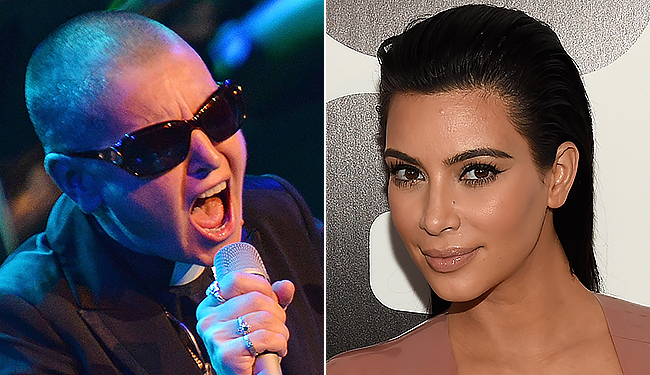 Sinead O'Connor went there. And by "there," I mean she took some serious umbrage with the latest Rolling Stone cover and dropped a hard c-word in a recent Facebook post regarding the cover and its subject, Kim Kardashian West.
"What is this c*nt doing on the cover of Rolling Stone ? Music has officially died. Who knew it would be Rolling Stone that murdered it? Simon Cowell and Louis Walsh can no longer be expected to take all the blame. Bob Dylan must be f*cking horrified. #BoycottRollingStone"
Okay, then. Let's take a breath here and cool our jets. This is definitely not the first time Rolling Stone has put a non-musician on its cover, and it's far from the most controversial subject to ever grace its cover. If anything is getting murdered here, it's human decency, and Rolling Stone didn't do the deed, you did. Even if it's used a little more liberally in where you're from in Ireland, calling someone the c-word is always a step too far in America. It doesn't even matter who it's directed to. And really, this is what has killed music? That seems like a stretch.
This is just the latest example of O'Connor lashing out at current pop culture figures with the fire and fury of an old woman yelling at kids to get off her lawn. In 2013, her target was Miley Cyrus, after Cyrus told none other than Rolling Stone that the video for "Wrecking Ball" was a "modern version of Sinead O'Connor's 'Nothing Compares 2 U.'" The two engaged in a spirited back and forth, involving an open letter, Twitter responses, another open letter, a Today Show appearance, and, you guessed it, another open letter.
If O'Connor does feel the need to lash out at someone for something, she could always attack Rolling Stone for still employing the photographer of that Kim Kardashian West cover, Terry Richardson, who has a past worth calling attention to.
Or, you can just chill out and enjoy those "Nothing Compares 2 U" royalty checks. Either way, watch your language next time.
Read the full Facebook post below, but beware, obviously, of the sensitive language.
(Via Stereogum)