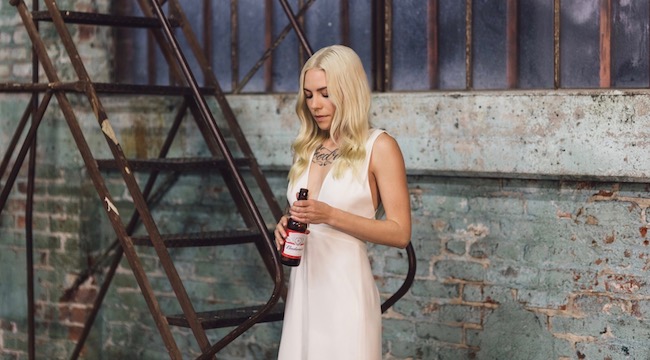 There isn't a stage in the world bigger than the Super Bowl. More than 100 million people tune in to watch two of the best teams in professional football battle it out to see who will stand tall, hoisting the Lombardi trophy in the end. Of course, for some, the game itself is an ancillary distraction. The real pull are the creative, star-packed commercials that leave just as deep an impact as anything Tom Brady or Nick Foles are capable of doing.
This year, Budweiser will air a spot highlighting the efforts to bring fresh, clean drinking water to millions of people in disaster-stricken areas like Houston and Puerto Rico. Over the past 30 years, Budweiser employees have donated over 79 million cans of water to communities hit hard by natural disasters, including three million cans in 2017 alone. Accompanying the ad will be a newly created cover of Ben E. King's classic "Stand By Me," put together by one of the strongest pop songwriters in the game today, Skylar Grey.
For Grey the opportunity to work on this project was a no-brainer. "It's incredible, nothing is bigger than the Super Bowl," she said. "So many people watch the game just for the commercials." Because of the exposure that the single is bound to receive, and in conjunction with Budweiser's efforts, she is donating a share of proceeds from the song to the American Red Cross.
Recently, I had the chance to talk with Grey about her latest spot with Budweiser, what it's been like to work hand-in-hand with one of the biggest rappers on Earth, Eminem, and when we might expect to hear her next solo project.

Tell me about this new commercial?
The commercial uses my cover of "Stand By Me" to help shine a light on how Anheuser-Busch really does stand by communities in need. The spot focuses on their emergency water program, in which they provide millions of cans of clean drinking water to people affected by natural disasters. The commercial is especially moving given the tragedies this past year in Houston and Puerto Rico.
Did you pick to record "Stand By Me" by Ben E. King?
Budweiser came to me asking if I'd be interested in recording a cover of "Stand By Me" for their Super Bowl commercial, and explained what the spot would be, I thought it was a great idea. I was excited to record one of the greatest songs of all time, and for such a good cause.
What made you want to work with Budweiser on a project like this?
When I collaborated with Budweiser in 2014 the ad was about soldiers "coming home" from war. This commercial champions their clean water initiative. Having my song in a Super Bowl commercial is an amazing way to reach millions of people with my music, but the best part about collaborating with Anheuser-Busch are the causes behind their commercials.
You're donating the proceeds from the single to the Red Cross, isn't that correct?
I wanted there to be a way that my fans and I could help the cause even more, so we are donating 25% of the proceeds from domestic digital downloads and streams of my version of "Stand By Me" directly to the American Red Cross to provide additional support for natural disasters.

Can you talk about what it's like to collaborate with Eminem on his latest album Revival?
I have been inspired by Marshall's music since I was 13 years old so it's an honor to be able to collaborate with him. He's an intimidating talent and I've learned so much from him over the years. We started working together back in 2010 when I wrote the hook for "Love the Way You Lie." Since then, we've collaborated on so many songs. Most recently, it's been really fun promoting his single "Walk On Water," featuring Beyonce, which I co-wrote and got to perform with him on SNL and the EMA's. I also co-wrote three other songs on the album.
What was your experience like singing with him on SNL?
Aside from getting to perform "Walk On Water," which is my favorite hook I've ever written, it was also an absolute teenage dream of mine to get to sing "Stan" with Em. I grew up listening to that song – it's one of the songs that made me want to do what I do.
What are you working on now? When can we expect your next solo project?
You can expect new music very soon! Following the release of "Stand By Me" I will be releasing my own solo version of "Walk On Water," which will also be on my upcoming album. I am writing and recording that as we speak. With this album, I'm going back to my roots, the music I grew up on like Joni Mitchell and Fleetwood Mac. Also, I know I'm known for pretty dark lyrics, but most of the songs I'm writing these days are happy love songs, because I am head over heels in love!
Is there anyone you'd like to collaborate with in the future?
That's a tough question… there's so many talented people in the world I would love to work with. But right now I'm focusing on my own project.