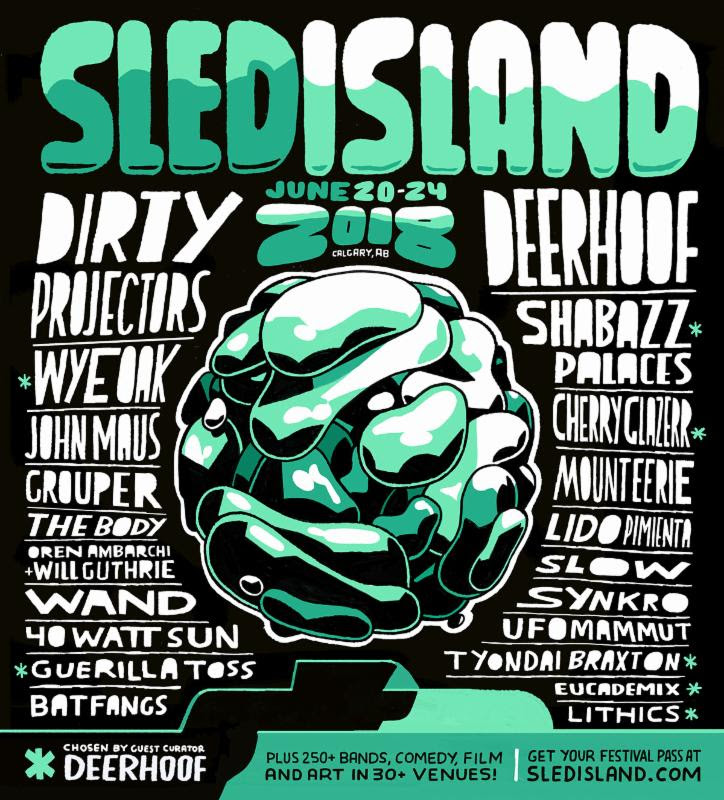 One of North America's best under-the-radar music festivals is held every June in Calgary, called Sled Island. Over the course of a week, music fans take over the city's downtown, with everything from legendary cult artists and indie rock lifers to rising rappers and boundary-pushing producers all occupying the same space. It's even about more than music. Massive storms and floods nearly killed the fest in 2013, but it has fought back and shown its resilience, making the event feel all the more special in its wake.
2018 will mark its 12th installment, and the first wave of artists has been revealed. Dirty Projectors, Mount Eerie (in a church), John Maus, Grouper, The Body, and Wand highlight the early announcement, providing an eclectic mix ranging from a solo songwriter to crushing metal.
In addition, one of Sled Island's unique features is a yearly guest curator, with previous artists including Flying Lotus, Peaches, Godspeed You! Black Emperor, Tim Hecker, and Kathleen Hanna. This year it is Deerhoof tasked with the responsibility, and their early selection include Wye Oak, Cherry Glazerr, and Shabazz Palaces.
Sled Island will run from June 20-24th, with ticket packages available for the entire program or for individual shows. There is also a pass avaialble for people under 18, allowing them access to the all-ages events for a discount. Check it all out here.