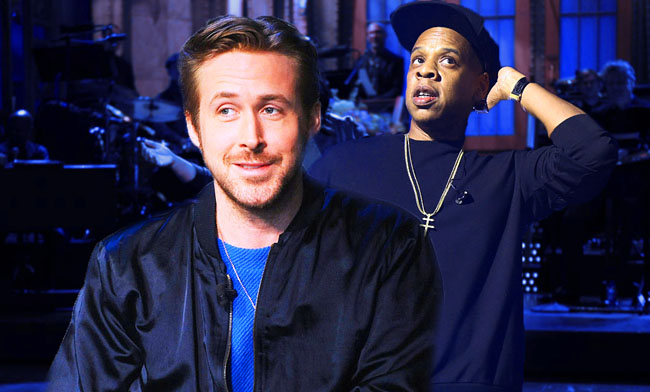 SNL closed out their final 'Weekend Update' special of the summer with a pleasing announcement for their season premiere in September. Ryan Gosling will return for his second hosting appearance, hopefully with another case of the giggles. Joining him as a musical guest will be Jay-Z, hot on the heels of his latest album, 4:44, and his status as the father of new twins with Beyonce. If you wanted to make a special impact with your season premiere, you'd be hard pressed to find better guests.
Gosling will be on to promote his role in Blade Runner 2049 ahead of its release in October and sets the tone for the sketch comedy show's follow up to its highest rated season in years — partly thanks to Alec Baldwin's Donald Trump. He'll also be back for the season, making his first appearance on the final 'Weekend Update' to cover the latest wild week in the world of Trump.
Jay-Z takes the stage after being on the collective minds of the music world all summer, hitting on all cylinders to drop a proper companion piece to his wife's Lemonade and address some of the more heated rumors connected to his name at the same time. If this cements one thing, it's that 2017 was Jay-Z's year and he had no trouble in the process.
The only thing we hope is that Gosling gets to share as many sketches with Kate McKinnon as possible. If they get abducted by aliens again, it can't be too bad.
(Via SNL)