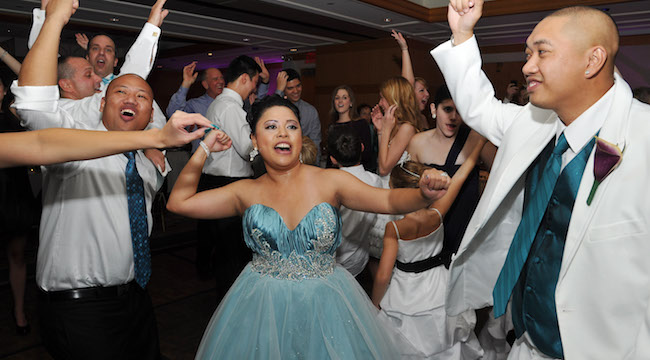 If you've ever been to a wedding, you have an idea of the songs that kill. "Uptown Funk" will get everyone dancing, from your kid nephew to your great-grandmother. Anything by Beyonce is sure to get people out of their seats. And, according to the data, Outkast's "Hey Ya!" is maybe the most wedding-dance-approved song of all time.
But there's a dark side to wedding dance playlists and DJ sets. There are songs that cause people to cringe, to go outside for a smoke, or to even leave early to get a good night's sleep. And the folks at 538, the website known for providing endless data during election season, have taken to statistics to discover the songs that brides absolutely don't want to hear on their special day, both for the sake of their guests and for themselves.
The study reveals some interesting truths. Many of the songs topping the list include numbers that cause group synchronized dancing, such as "Chicken Dance," "YMCA," and "Macarena." But also near the top of the list are some big hits that might have grown cloying to some. Drake's "Hotline Bling" shows up, as does Pharell's "Happy" and Taylor Swift's "Shake It Off."
Many of the songs that make the list make a lot of sense logically. "My Heart Will Go On" is generally associated with a lover dying on the Titanic, and isn't really a great tune to kick off a thriving relationship. Others, like "Save A Horse (Ride A Cowboy)" or "Baby Got Back" might be too explicit for a wedding, while Beyonce's "Single Ladies" seems like the thematic opposite of what is happening to a bride at her wedding.
Not shown on the list are whole genres that are wiped away from weddings, of which country leads, being banned from 10% of DJs surveyed. Rap was banned from only 3%, which we can pretty much guarantee are the worst 3% of weddings.
The list was formed by surveying wedding DJs for the songs they were specifically instructed not to play, so below you'll find the list with the percentage of DJs that included the song on their banned list.
1. "Chicken Dance" – [No Artist] – 23.1%
2. "Cha-Cha Slide" – DJ Casper – 22.5%
3. "Macarena" – Los Del Rio – 17.6%
4. "Cupid Shuffle" – Cupid – 16.5%
5. "YMCA" – Village People – 15.4%
6. "Electric Boogie (Electric Slide)" – Marcia Griffiths – 12.6%
7. "Hokey Pokey" – [No Artist Listed] – 10.4%
8. "Wobble" – V.I.C. – 7.1%
9. "Happy" – Pharrell Williams – 5.5%
10. "Shout"– Isley Brothers – 5.5%
11. "Love Shack" – The B-52's – 49.5%
12. "We Are Family" – Sister Sledge – 4.4%
13. "Blurred Lines" – Robin Thicke – 3.8%
14. "Celebration" – Kool & The Gang – 3.8%
15. "Cotton Eye Joe" – Rednex – 3.8%
16. "Dancing Queen" – ABBA – 3.8%
17. "Don't Stop Believin'" – Journey – 3.8%
18. "Single Ladies" – Beyonce – 3.8%
19. "Sweet Caroline" – Neil Diamond – 3.8%
20. "Turn Down for What" – DJ Snake and Lil Jon – 3.8%
21. "Watch Me (Whip/Nae Nae)" – Silento – 3.8%
22. "Hot In Here" – Nelly – 2.7%
23. "Mony Mony" – Billy Idol – 2.7%
24. "All About That Bass" – Meghan Trainor – 2.2%
25. "Baby Got Back" – Sir Mix-A-Lot – 2.2%
26. "Booti Call" – Blackstreet – 2.2%
27. "Gangnam Style" – Psy – 2.2%
28. "Save a Horse (Ride a Cowboy)" – Big & Rich – 2.2%
29. "Stayin' Alive" – Bee Gees – 2.2%
30. "Sweet Home Alabama" – Lynyrd Skynyrd – 2.2%
31. "Uptown Funk" – Mark Ronson and Bruno Mars – 2.2%
32. "Wagon Wheel" – Nathan Carter – 2.2%
33. "What Do You Mean?" – Justin Bieber – 2.2%
34. "All of Me" – John Legend – 1.6%
35. "Bohemian Rhapsody" – Queen – 1.6%
36. "Brown Eyed Girl" – Van Morrison – 1.6%
37. "Call Me Maybe" – Carly Rae Jepsen – 1.6%
38. "Footloose" – Kenny Loggins – 1.6%
39. "Get Low" – Lil Jon – 1.6%
40. "Hey Ya!" – Outkast – 1.6%
41. "Hotline Bling" – Drake – 1.6%
42. "I Will Survive" – Gloria Gaynor – 1.6%
43. "My Heart Will Go On" – Celine Dion – 1.6%
44. "SexyBack" – Justin Timberlake – 1.6%
45. "Shake It Off" – Taylor Swift – 1.6%
46. "Suga"r – Maroon 5 – 1.6%
47. "Total Eclipse of the Heart" – Bonnie Tyler – 1.6%
48. "You Shook Me All Night Long" – AC/DC – 1.6%