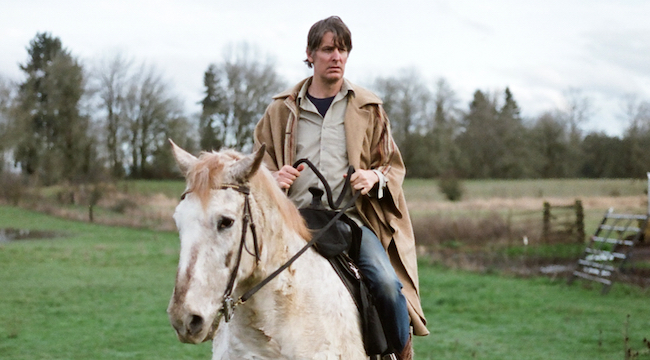 It's a strange realization that Stephen Malkmus' career with the Jicks and as a solo artist has eclipsed his run as the frontman of Pavement in both the metrics of time and productivity. His next album will be his seventh of his post-Pavement run, while that legendary indie rock band topped out at five albums during their decade of existence.
But this isn't an album announcement. This is just a song, albeit Malkmus' first new one with the Jicks since 2014 and a quite good one at that. Titled "Middle America," the song's laid-back twang feels like it spawned straight from the setting of its title. It's an aesthetic that has interested the singer dating back to "Range Life," and when he sings "crush me back to where I belong," it sounds like he's truly there, as comfortable in his own sound as he's ever been.
In addition to the new track, Stephen Malkmus & The Jicks are going on an extensive tour. Check out the full list of tour dates below, and stay tuned for what we hope is a new album announcement soon. And, you know, we can all keep praying for that potential Pavement reunion.
06/01 — St. Paul, MN @ Turf Club
06/02 — Milwaukee, WI @ The Back Room at Colectivo
06/03 — Chicago, IL @ Thalia Hall
06/05 — Columbus, OH @ Ace of Cups
06/06 — Pittsburgh, PA @ Rex Theater
06/07 — Cleveland, OH @ Grog Shop
06/08 — Detroit, MI @ Magic Stick
06/09 — Toronto, ON @ Lee's Palace
06/11 — Montreal, QC @ Theatre Fairmount
06/12 — Cambridge, MA @ The Sinclair
06/14 — Brooklyn, NY @ Music Hall of Williamsburg
06/16 — Philadelphia, PA @ Theatre of Living Arts
06/17 — Washington, DC @ Black Cat
06/19 — Carrboro, NC @ Cat's Cradle
06/20 — Athens, GA @ The Georgia Theatre
06/21 — Nashville, TN @ Mercy Lounge
06/22 — Louisville, KY @ Zanzabar
06/23 — Cincinnati, OH @ The Woodward Theater
07/17 — Petaluma, CA @ Mystic Theatre
07/18 — San Francisco, CA @ Slim's
07/22 — Phoenix, AZ @ The Crescent Ballroom
07/25 — Austin, TX @ The Mohawk
07/26 — Houston, TX @ White Oak Music Hall
07/27 — Dallas, TX @ Granada Theater
07/28 — Tulsa, OK @ The Vanguard
07/29 — Kansas City, MO @ Record Bar
07/31 — Englewood, CO @ Gothic Theatre
08/01 — Salt Lake City, UT @ Urban Lounge
08/03 — Vancouver, BC @ Rickshaw Theatre
08/04 — Seattle, WA @ Neptune Theatre
08/05 — Portland, OR @ Star Theater