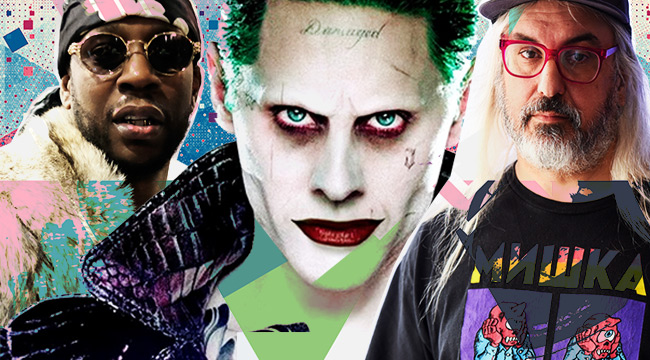 Okay, none of these releases are Frank Ocean. Let's just get that out of the way. But while we await the second (studio album) coming, there are plenty of great releases this week. The Hair-Weave Killer himself also announced a spontaneous album, the Suicide Squad soundtrack is here with a ton of strange team-ups, and Dinosaur Jr. return with more shredding alt-rock goodness. Plus we've got new stuff from DJ Snake, Wild Beasts, and more. Here are the albums you need to hear this week (that aren't Frank Ocean.)
2 Chainz – Daniel Son; Necklace Don
I don't know if you've noticed, but 2 Chainz has come all the way back to reclaim his crown. His feature verses have been pure flames in 2016, and Colligrove with Lil Wayne was a great look that elevated both men this year. Now, after blessing everyone else's tracks for the better part of eight months, Tity is back with a solo tape in Daniel Son; Necklace Don. The mixtape is a short 10-track trek to the trap, but don't let the briefness fool you. Every track on here is hitting incredibly potent, including one of the very few collab tracks, "Big Amount" featuring Drake. If you ever had any doubts that 2 Chainz didn't have it, just pop this in and you'll know right away that he never lost it.
Various Artists – Suicide Squad Soundtrack
Okay, the jury is still out about Suicide Squad, sure. There are a lot of opinions about the very polarizing film. But the movie's soundtrack is similarly constructed in a rag-tag fashion, combining artists who would likely never work together, and sometimes it really works. Rick Ross, for example, pairs up with Skrillex for the excellent "Purple Lamborghini" and Action Bronson links up with Mark Ronson and Dan Auerbach from the Black Keys for "Standing In The Rain." There's also new music from Grimes, Kehlani, Kevin Gates and more. I can't say it all makes sense — a problem the movie also suffers from — but unlike a film, you can pick and choose what you like here, instead of being stuck in a theater for two hours.
Dinosaur Jr. – Give a Glimpse Of What Yer Not
What is it about being in a band that's such a pressure cooker? I guess you're in very intimate spaces, constantly touring with one another, and feeling pressured to create something unique and special — that's probably enough to make you want to choke each other. Dinosaur Jr. have been making incredibly alluring indie rock for the better part of three decades (give or take a few breaks), and even if the band isn't entirely on speaking terms, they can still turn around an impeccable alt-rock record like it's nothing. J Mascis still sounds exactly the same and the riffs are still fresh and catchy, like on lead single "Tiny." There's no reason when listening to Give a Glimpse… to think this could be a record made 20 years ago. Normally, that would sound like a bad thing, but Dinosaur Jr. aren't chasing their past — it's too rocky anyway — they just know what works and can ride that forever onward into the future.
Here are the rest of the week's new releases:
DJ Khaled – Major Key [Wide Release]
DJ Snake – Encore
Wild Beasts – Boy King
Marc E. Bassy – Groovy People
Slim Thug – Hogg Life Vol. 4: American King
Toro Y Moi – Live From Trona
Angie Stone – Covered In Soul
Field Mouse – Episodic
Kat Deluna – Loading
Elvis Presley – Way Down In The Jungle Room